The Lair, Los Angeles: 21st – 24th March 2019: "Sister Circles are incredibly powerful; us women have gathered together throughout history…"
Thursday 21st and Friday 22nd March, 6pm – 9pm
Saturday 23rd and Sunday 24th March, 10am – 4pm
21st March… Light and Dark in equal measure!
The turning of the seasons and the welcoming of light, the fertile ground filled with potential, what to plant, what to grow?
With every change of the season a shift occurs inside us, we change direction in the cycle, our bodies mimic the external and in the energy of spring we begin to emerge from the quiescent time of winter and expand into this New Year.
We plant seeds of intention, gathering our goals and setting our sights. Making positive commitments that harbor change and foster growth.
Coming together to be witnessed and supported by others has been a practice of humans since the start of time; by creating a circle of kindred spirits we create energy more than the sum of our parts.
Sister Circles are incredibly powerful; us women have gathered together throughout history. The red tent or the moon lodge was part of our culture many moons ago; women would retreat from the community and share wisdom, feelings and practices.
The time has come for us women to gather once again, create safe spaces for sisters to share, to shed and to grow.
This season I see one of my own seeds of intention come to fruition.  I planted the intention long ago that I would learn and share knowledge from the greats, and in this cleanse I sit alongside my own mentor Solla Pizzuto, a woman with a great depth of knowledge on women's health, cleansing and self care.  She is a senior instructor at Universal Healing Tao and will share the secrets of Healing Tao, ovarian breathing, Chi Nei Tsnag and Karsai.
These ancient practices of internal alchemy are from the times the Han Dynasty, the teachings of the jade egg was developed by the concubines of the Yellow Emperor. It was used to cultivate sexual energy and vitality and improve longevity and reproductive health.
These coveted practices will be taught alongside cleansing practices, we will clean the internal organs; using whole foods, teas, juices, broths and elixirs to gently yet deeply release built up toxins, flush out our system and enliven our bodies.
We will listen, write and share, getting to know ourselves and each other, diving deep into our psyche, with safe practices intended to unlock blockages, awaken desires and focus our energy on creating our own vision into reality.
Over two nights and two full days this 4-day program will be a feast for the senses and a rest bite for the organs. You will leave lighter in the body and mind and fuller in the heart.
A full menu of fresh healing foods tailored to the season, tasty foods and drinks will be served, and there will be one day of a liquid only diet packet with nutrients to support the cleansing process.
@ The Lair Hollywood
A secret studio in the hills of Hollywood,
with breathtaking views and nurturing energy.
Creative Cleansing Includes:
2 nights and 2 full days of workshops
4 nights and 3 days of nourishment, food, juices, teas and elixirs
Detoxifying of the internal organs
Gentle cleansing of the Colon
Introduction to Qi Gong and Taoist meditation
Establishing an understanding of emotional and environmental toxins
Commitments of toxin reduction
Align with our creative vision for a healthier life
A safe container to explore your relationship to your body
Sisterhood support
Cleansing manual
Goodie Bag
Chi Nei Tsang Benefits Include:
Stimulates lymph and blood circulation
Improves digestive elimination relieving constipation, detoxifies organs
Strengthens the immune system
Eases back, neck and shoulder pain
Helps correct postural problems
Balances emotions
Releases tension, stress
Restores vitality, improves quality of sleep, good for PTSD
Good for PMS, Menstrual cramps, Pre-Post Menopause, infertility, impotence
There will be presentations and demonstrations and personal guidance.
Goodie Bags
Each sister will be given a bag full of cleansing gifts
Self care tools and feminine products
Value – $200
Solla Pizzuto

Solla Pizzuto is a Global Wellness Educator and Professional Holistic practitioner with experience in medicine, psychology, therapeutic bodywork, meditation and ancient Taoist energy/longevity practices. She is a Nationally Certified Board Therapeutic Massage & Bodywork Provider and provides Continuing Education Certification hours for Licensed Bodywork, Holistic Practitioners Healers and Massage Professionals. Solla teaches the effect of increasing our Internal Organ Vitality, Rejuvenation and reversing our biological age, as well as increasing our Life Force Chi energy. The benefits of the teachings offered are greater Mental and Emotional Intelligence, deepening our Awareness of Conscious Intimacy and Spiritual awareness.
Her global workshops, private sessions, and consultations awaken people to empower their lives through the mastery of personal health, wellness, vitality, practices of conscious connection and sacred healing love.
As a professional Holistic Practitioner of over 20 years, she is internationally highly sought after as a teacher and as a lineage holder for her advanced studies with Taoist Grandmaster Mantak Chia.
Jo Little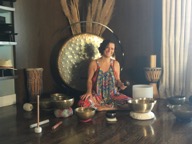 Jo Little is dedicated to the art of cleansing, having travelled across Central and South America as well as Asia learning from various cultures about their cleansing practices. After living at the Optimum Health Institute for over 6 months on a work/study program she has witnessed first hand the transformational power of cleansing and began facilitating cleanses in 2013.
She systematically cleansed and rejuvenated her own mind and body using cleansing practices over a 6-year period after a devastating brain injury that put her into a coma for 6 weeks. Through her own process she developed a holistic approach to cleansing, incorporating creative processes to stimulate the mind-body connection and foster positivity to promote wellness throughout the nervous systems of the body.
Jo has been studying Crainosacral Unwinding, MABT, Bodywork and Qi Gong, at the Institute of Psyco-Structural Balancing, Life Energy Institute and the Institute of Medical Qi Gong. Her fascination in interoceptive awareness keeps her constantly researching and studying this ever-expanding field of knowledge. Encompassing breathwork, meditation and sound therapy into her work, she hopes that we will all become more embodied and aware and gain a deeper connection to ourselves and the world we inhabit.
Testimonials:
This cleanse was effective because we met every day. I don't think I could have done it without that support. The community and sisterhood that developed was so life-changing. During the cleanse I felt challenged but also cleaner and lighter than I've ever felt before. I plan to make this a quarterly part of my life."
- Erin – Writer
After both cleanses I have done with Creative Cleansing I left feeling full of energy, knowledge and positivity.
I have recommended Creative Cleansing to friends and highly recommend it to anyone who is looking for a highly effective, truly enjoyable way to cleanse."
- Lauren Lane, Dj, Producer
Jo's unique approach to cleansing really helped me to identify and purge these sources of toxins and stress from my life.
I was so full of energy the entire time and at the end I wanted to keep going indefinitely!
- Chie Kim, Writer
https://www.creativecleansing.com
For more info message: jo@creativecleansing.com