A new Stanley Kubrick exhibition is running at Somerset House, London, until August 24th.
Curated by Mo'Wax and UNKLE founder, James Lavelle, the exhibition features some of today's most talented artists exploring the impact of one of the most innovative and influential film makers in cinematic history.
Kubrick's original and controversial work includes 'Lolita', 'Dr Strangelove', '2001: A Space Odyssey', 'A Clockwork Orange', 'The Shining', 'Full Metal Jacket' and 'Eyes Wide Shut', his final film before his death in 1999, and which he claimed as his best to date.
Daydreaming with Stanley Kubrick
For the 'Daydreaming With Stanley Kubrick' exhibition, each artist involved was invited to 'respond to a film, scene, character or theme from the Kubrick archives, shining new perspectives onto the cinematic master's lifework'. Some artist highlights include:
Chris Levine, with an inspiring light-work entitled  'Mr. Kubrick is Looking':
"A self-portrait by Kubrick is projected into the viewer's peripheral vision using LED light technology. This 'visual echo' appears and disappears in a moment like a phantom. Levine is fascinated by the 'sensory energy' and 'spiritual dimension' of light." (Source: Booklet)
Haroon Mirza and Anish Kapoor with 'Bit Bang Mirror':
"The skilful interplay of dissonant sound and controlled light to create a heightened sense of drama is central to Kubrick's filmmaking. Mirza's immersive installation incorporates a concave mirror by Kapoor, and uses the tension between sound and light to illicit both psychological and visual discomfort in the viewer." (Source: Booklet)
James Lavelle and John Isaacs featuring Aziz Glasser 'In Consoles – 'Full of Hope and Full of Fear':
"The outwardly playful multi-media, olfactory environment, belies sinister undertone. Loss of innocence  and abuse of power find expression through the over-scaled teddy bears, and the banal food produce boxes referencing the pantry scene in The Shining. Perfume designer Aziz Glasser's scent 'A Space Odyssey' evokes Kubrick's film whilst also alluding to his optioning of Patrick Suskind's classic novel Perfume." (Source: Booklet)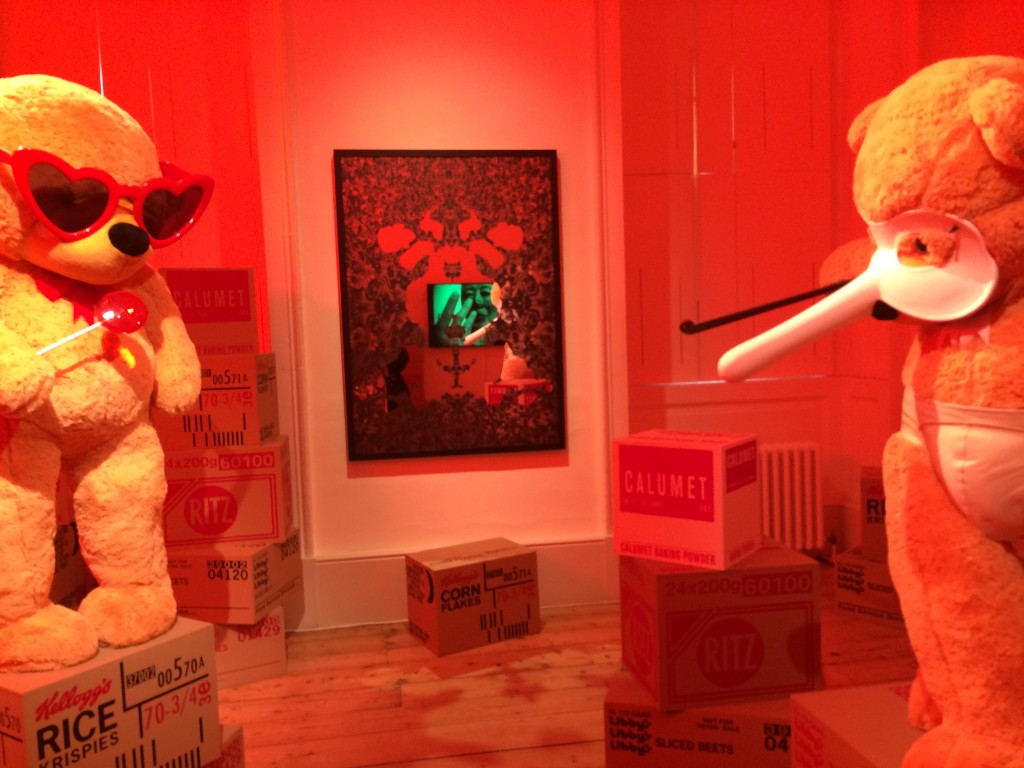 Contributors to the exhibition include:
Adam Broomberg & Oliver Chanarin / Carl Craig / Charlotte Colbert / Chris Levine / Christiane Kubrick / David Nicholson / Dexter Navy / Doug Foster / Doug Aitken / Futura / Gavin Turk / Harland Miller / Haroon Mirza & Anish Kapoor / Iain Forsyth & Jane Pollard / Invader / Jamie Shovlin / Jane & Louise Wilson / Jason Shulman / Jocelyn Pook / John Isaacs & James Lavelle with Azzi Glasser / Jonas Burgert / Joseph Kosuth / Julian Rosefeldt / Keaton Henson / Koen Vanmechelen / Marc Quinn / Mark Karasick / Mat Chivers / Mat Collishaw / Max Richter / Michael Nyman / Michele Lamy / Mick Jones / Nancy Fouts / Nathan Coley / Norbert Schoerner / Paul Fryer / Paul Insect / Peter Kennard / Philip Castle / Philip Shepherd / Pink Twins / Polly Morgan / Rachel Howard / Rut Blees Luxemburg / Samantha Morton & Douglas Hart / Sarah Lucas/ Seamus Farrell / Stuart Haygarth / Thomas Bangalter / Toby Dye / Warren du Preez & Nick Thornton Jones
To find out more, check the Somerset House website here