Eighth summer season @ Pikes, Ibiza
May 11 / June 29 / July 26 / September 28 / October 11
 Enter a world of music and magic, open to fun and creativity… Where music transcends reality…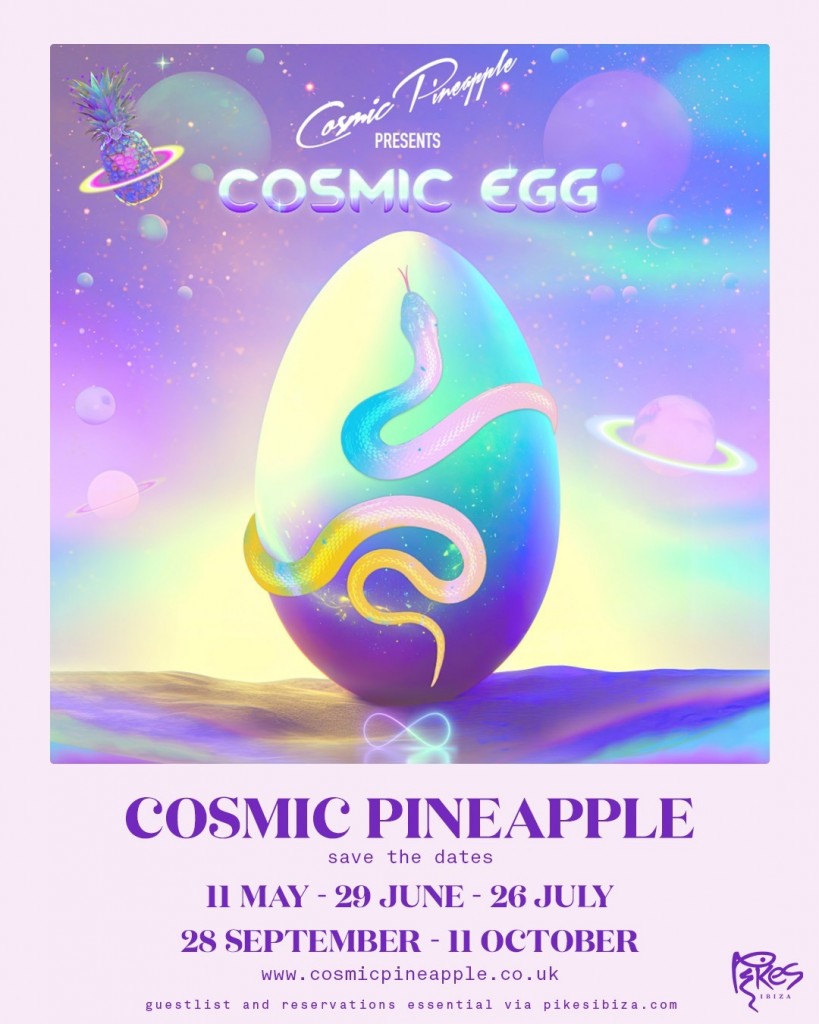 Cosmic Pineapple returns to Pikes Ibiza this summer – celebrating our eighth season with five summer dates, telling the story of the Cosmic Egg.
Cosmic Pineapple is a little different to the norm. It's an imaginative conscious experiment and art in motion. We like the strange, the creative, the fun, the wild and the wise. We love honest heart connections and random conversations. We are ruled by truth, good intentions and visions of a better world; one where inclusivity, equality and acceptance of all aspects of existence is prevalent; with respect of the self and the other. We welcome the individuals, the crazies, the rebels, beautiful weirdos and those who live on the edge of reality. Those who don't quite fit in and who don't really want to. Some get it. Most do not – and that's ok.
This year our theme is Cosmic Egg – based on ancient creation myths – how we all birth this new reality together. Weaving music, learnings, healings, creativity, fun and laughter. Dark to light, chaos to harmony. New beginnings. We begin on an 11 and close on an 11!
"The cosmic egg is a powerful symbol of the creative force that brings the universe into being. It represents the beginning of all life and the infinite possibilities that exist within the universe. It is a reminder that everything in the universe is interconnected and that all things are ultimately one. The egg is depicted as floating in the waters of creation, waiting to be hatched or broken open to unleash the forces of creation."
Enter a world of music and magic – open to fun and cosmic creativity. For twelve hours each event – from 4pm – 4am – we take over Pikes, in all nooks and crannies. We have the Cosmic Activation Dome with different teachings and traditions weaved in, bridging the mystical with the mundane. We have unique creative sellers from across Ibiza in the Cosmic Bazaar. We have the Healing Garden with different healing modalities and offerings for self care. And we have excellent music selectors, spanning many genres of music, soundtracking your experience. Plus BayBJane, Live Art and lots more magic weaving around Pikes. You never quite know what to expect, just know that it's cosmically curated for your most magic heart intent.
We will begin to announce our musical summer guests soon, previous guests have included: Adam Beyer, AFRODEUTCHE, Carl Craig, Cassy, Cici, Craig Richards, Dan Ghenacia, Danny Daze, DJ Tennis, Ellen Allien, Ida Engberg, Jamie Jones, Josh Wink, Matthew Jonson, Sasha, Shonky, William DJoko and many more…
Previous sharers in the Cosmic Activation Dome have included: The Dogon Tribe, The Huni Kuin Tribe, Moon Dance teachings, Camino Rojo teachings, Tantra, Yoga, Breathwork, Dance, Sound Healing, Shaman Durek, Womb connection, Daniel Pinchbeck, Astrology, ceremonies and much more. The focus for this year is showing and bringing the sacred into every day life.
As always each event has a charity aspect to it – dedicating your practice inside to a higher cause. So far in our events, we have raised over 50,000 euros for different causes around the world – from on island to worldwide based charities.
Our first event on May 11 will be supporting Brian Eno's Earth Percent charity and island based Creatives For The Planet.
This year our Residents are:
BayBJane – A big heart and a dirty mind, BayBJane is the smallest drag queen in the world and a creative performer, bringing joy and art to whichever heart she meets. BayBJane is one of the island's most loved and recognised faces. She spends the summers in Ibiza and winters in Berlin, where she is an advocate for helping bring awareness to disability in nightlife for the Club Commission – helping to bring inclusivity to nightlife and entertainment. Last year BayBJane released her first single with two queer legends of music – Man Parrish and Joey Arias, with the extremely unique Shit Cake. This past winter BayBJane has been working on new music, with exciting release news to be announced soon. BayBJane can be found weaving around Cosmic doing whatever feels good.
Chabeli – Chabeli is a rising artist from the Amazon in Venezuela and a bridge between worlds. Now based in Ibiza, she has a deep mystical flow and high energy touch to music. Walking the path of music and activism, she works with music as a medium to connect people to nature and the Amazon. "I bring nature into musical and human form. By integrating my dreams and realities into performance I create new impressions for people to connect to nature and those who are closely connected to mother earth." Chabeli made a special Cosmix for us last year and you can listen to it here. Chabeli will be the musical resident for each Cosmic event this summer.
Lex Wolf – aka Alex Wolfenden – has been a resident of ibiza since many years. He has DJd to roughly 2000 sunsets on the island, soundtracking the closing of each beautiful day of your experience. Alex is also a resident and music curator on OpenLab Radio, where he has a weekly Quantum Sonics residency. A giver of good vibes and perceptive of what's needed, he can play to any kind of crowd. Alex has been busy this winter making lots of edits to road test this summer. He made us a lovely Cosmix earlier last year.
The events re cosmically curated by Kim Booth
Kim is a student of life and different traditions. She has worked in music and events for over twenty years and has been a conscious explorer of the mystical since 2005. The intention of Cosmic Pineapple is to be a bridge for deeper connection to the self, the other and planet earth in cosmic and creative ways. Tapping into inner potential for expansion and growth along with the cosmos.