Cosmic Pineapple returns to Pikes, Ibiza, on October 4th to complete the elemental cycle began in 2016. Here we enter the fifth element – LOVE – opening our hearts to the eternal truth that LOVE is all we need in the dance of the great mystery of life on our planet.
Dance. Connect. Create… Transformation awaits.
Cosmic Pineapple began as a website in March 2015, with the ethos to share creative wisdom from healers and conscious people around the world.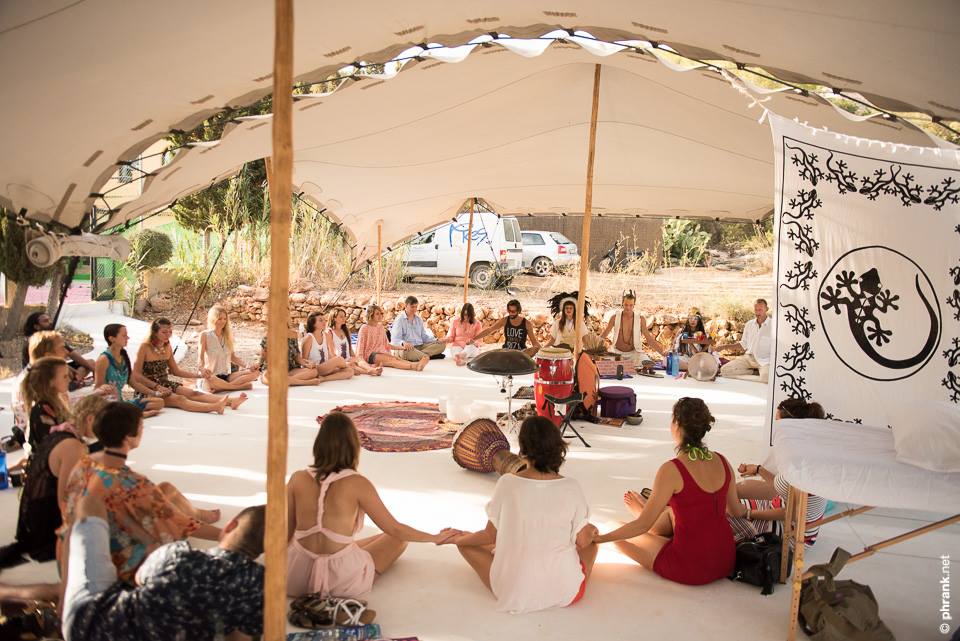 In 2016 Cosmic Pineapple developed into a four-part event series at Pikes, Ibiza, with each event giving focus to the four main elements – water, earth, fire and air. The immersive music and magic events began with an opening ceremony each week and included many different areas to explore – the Cosmic Activation area with healings, conscious talks, yoga and more, a Once Upon a Time outdoor Night Market with creative traders from across Ibiza, gardening workshops, Native Instruments hosted a conscious approach to dance music panel, an art area, Swimming Pool area with The Minx FX mermaids and healthy food and drink options, outdoor cinema from Cinema Paradiso and at night Cosmic Pineapple entered the dance with two rooms – The Cosmic Cave and the Space Rave which held some of the world's most visionary DJs playing secret sets, including Acid Mondays, Afrodeutsch, Carl Craig, Cici, Craig Richards, Danny Daze, Djebali, Ellen Allien, Jamie Jones, Josh Wink, Kate Simko, Lauren Lane, Mike Shannon, Mirko Loko, Rob James, Shonky, Tiefschwarz and was hosted by queens, Fierce Grace and the world's smallest drag queen, BabyJane ElectroQueen.
Each event was for charity, with all proceeds going towards charities:
This year the chosen causes to donate proceeds to are:
Help Refugees UK – supporting refugees in Europe
Love Specs – Love Support Unite take a new approach by simultaneously providing education, healthcare and skills training to ensure every child and young adult has the opportunity to survive, develop, grow and succeed.
'The Voices That Nobody Wants To Hear' – finding solutions to Ibiza's Homelessness.  
"Cosmic Pineapple has very much been an idea born into Ibiza when it is most needed and wanted. It managed to embrace Spirituality, Wellness and Healing and fuse it with Music and Education in a non elitist way that offered a fantastic counter culture to VIP Ibiza and all its trappings. It has been perfect for Pikes Hotel – we really believe in it." – Andy McKay, Pikes
The evolutionary events are all about connecting, celebrating, creating, the spirit of giving and an opening of consciousness, with everyone sharing their energy to create something magical and bigger than themselves.
"Parties likes Cosmic Pineapple are bringing back the mystical idea of what Ibiza really is. I think it has been lost over the last decade. People are tuning their bodies, but they are gonna have to come back and tune their minds. Cosmic Pineapple is a place where people's spirits and minds can be tuned." – Carl Craig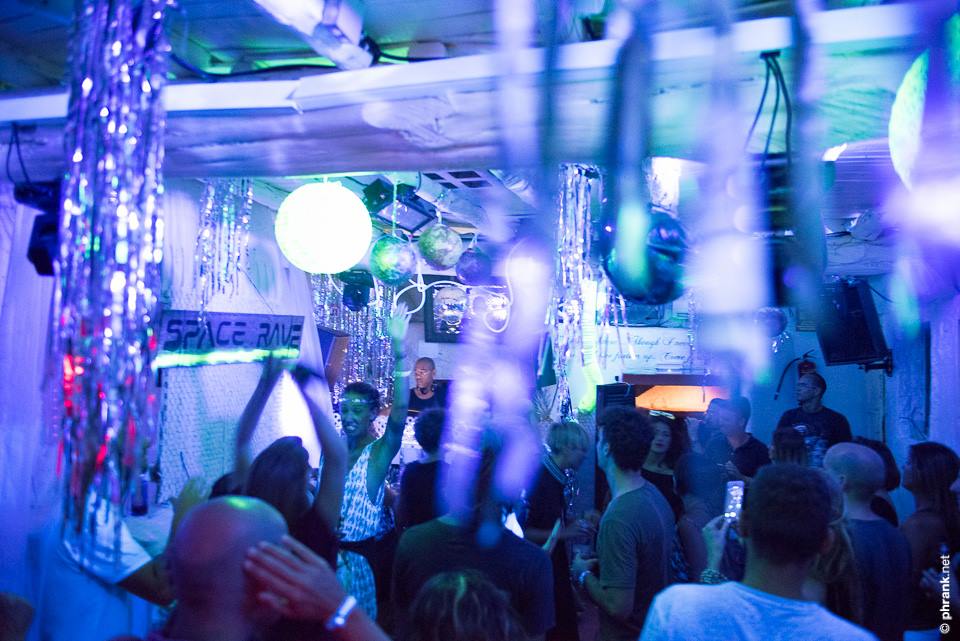 For the fifth event in the elemental cycle we have many more new surprises along the way, with more work on sound as healing frequencies, dance, ceremony, wellness and also more art and creative expression for us all. With love as the binding force and music as the energy that brings us together.  
"Sound will be the medicine of the future" – Edgar Cayce
"Love loves to love love." – James Joyce 
We invite you to empty your minds, open your hearts and and step into the magic we have waiting for you.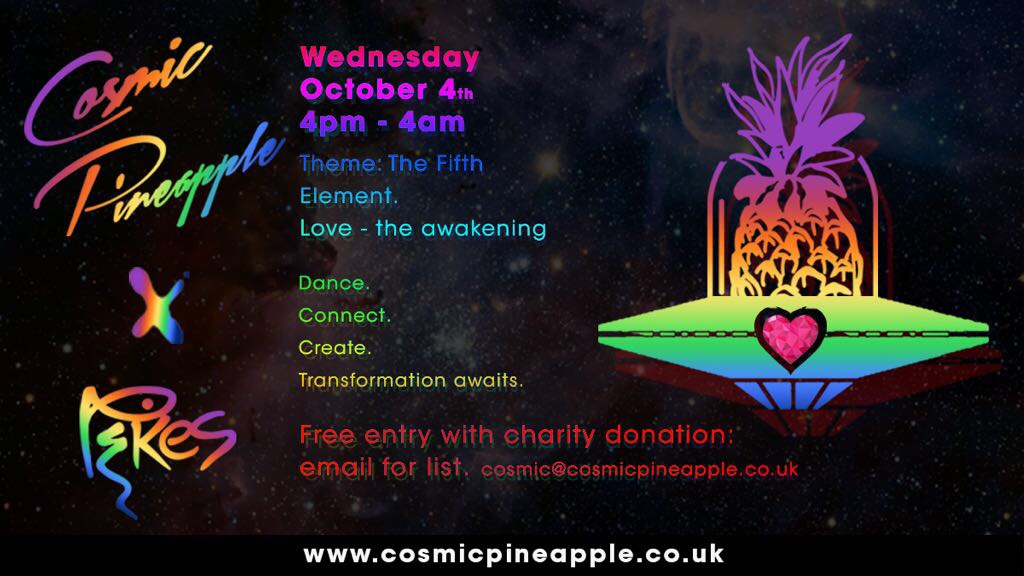 As before, DJS are to be announced and it is suggested to sign up before the event via cosmic@cosmicpineapple.co.uk
Please sign up in the format: NAME / EMAIL  
www.cosmicpineapple.co.uk is a place of connection. To the self, the other, the earth and everything that exists. Cosmic Pineapple brings you cosmic and conscious knowledge and wisdom, in creative and interesting ways. With intrigue and a twist of pineapple.
If you would like to get involved in any way, please email cosmic@cosmicpineapple.co.uk