Celebrating their new album 'The Calling', released on Nixi Music, Cosmic Pineapple asked Flowers Of The Forest some questions on the burgeoning music movement 'medicine music' and their journey within. 
Flowers of the Forest is a musical journey created by Sigmund Vatvedt and Rutti Atitasha. They are part of the growing Medicine Music movement – music made with the intention to heal, open the heart and expand consciousness, with roots in different indigenous healing rituals and ceremonial settings. Their music is a meeting between the ancient and modern; inspired by folklore and traditions from the west and the east, the north and the south. Their lyrics speak of hearts longing to be free, and in the core of the music is a deep spiritual calling which comes to life through the melodies, harmonies and sounds.
Flowers of the Forest recently released their debut album 'The Calling' on Nixi Music. The result of many years of searching for the Great Spirit, the album is a musical invitation to undergo the journey of self exploration, transcendence, inner peace and connection to nature. 'The Calling' is a multilingual meeting of ethnic traditions, medicine music and the singer songwriter genre.
Earlier this summer they released the beautiful 'Prayer Song– a call to unite with one another and nature. 'Prayer Song' features some of the duo's main teachers – the respected shaman Txana Ixa of the Huni Kuin tribe, who delivers an opening prayer on the song (a Huni Kuin blessing for new beginnings and to welcome in the Healing), and the Brazilian Kalimba master Chandra Lacombe, who plays drums on the song, it also features Kailash Kokopelli, who shares a spirit chant and Nawa Paná from the Huni Kuin tribe saying a closing, "grounding in the healing" prayer.
Flowers of the Forest creates a sound that is genuine to the source and weaves a unique thread between indigenous and western cultures. Telling a story, 'The Calling' starts with an invitation to undergo the journey and process of the soul's awakening. Once the call is heard the journey begins and carries you through different stages of an adventure until you land deep home in your heart.
To celebrate the release of their new music and to find out more on this movement, we asked them some questions below:
What is medicine music?
Medicine music is music made with the intention to heal and open the heart and expand consciousness. With roots in different indigeneous and traditional healing rituals and ceremonial settings. Usually catalysed by deep healing experiences and expansion of consiousness. Sometimes activated by plant medicines that have been consecrated in these rituals. It is music that supports and guides the healing process. The genre of Medicine music today is a modern interpretation of healing songs, with the aim to spread out the healing music beyond those closed healing rituals.
What would you say started the medicine music movement?
First of all the exposure to plant medicine rituals and healing experiences of different kinds. Even though it's something of the modern age, it is also something that had its small beginnings in the hippie movement in the 70´s and by the "Rainbow gatherings", which started as a free alternative to Woodstock. Also the medicine music movement was influenced by the search for mystical experiences or altered states of consciousness combined with and through music.
When did it start?
Somehow it has always been. And has its roots back in ancient times where people used music not merely as entertainment but for ceremonial purposes and as a tool to expand and bring forth altered states of consciousness and connect with the divine. This is now in the past few years experiencing a kind of revival. The way we know medicine music today started seeing its daylight around about 15 years ago.
What makes a medicine musician?
Somehow anyone could be a musician and a medicine musician. But authenticity comes from experience and not only from learning or making songs.  Usually the "medicine musician" has a deep and long experience with medicinal plants, or other shamanic and/or spiritual practices, experiences of altered states of consciousness.
One who has gone through deep healing themselves in their lives and expresses it through their music. With the intention to forward the healing vibrations. To support the listener to connect with the divine, to nature and to go through their own process.
How did you find this path?
Through deep healing experiences with spiritual and indigenous healing rituals and ceremonial work with plant medicines. Sigmund got diagnosed with Multiple Sclerosis in 2006 and this lead him to search deeper for a thorough healing. He encountered an ancient healing medicine and was guided to travel to the Amazon rainforest in Brasil in 2007. There he went through an extensive process and returned back home completely healed. The doctors could not find any traces of the scars of the MS in his spine or his brain. He continued on the path of healing and connected with other musicians that have devoted their lives to the spiritual path and so grew his own expression through his music. Rutti encountered the healing medicine in the Equadorian rainforest in 2007 and some years after met Sigmund and the music and other musicians that accompanied the ongoing healing rituals.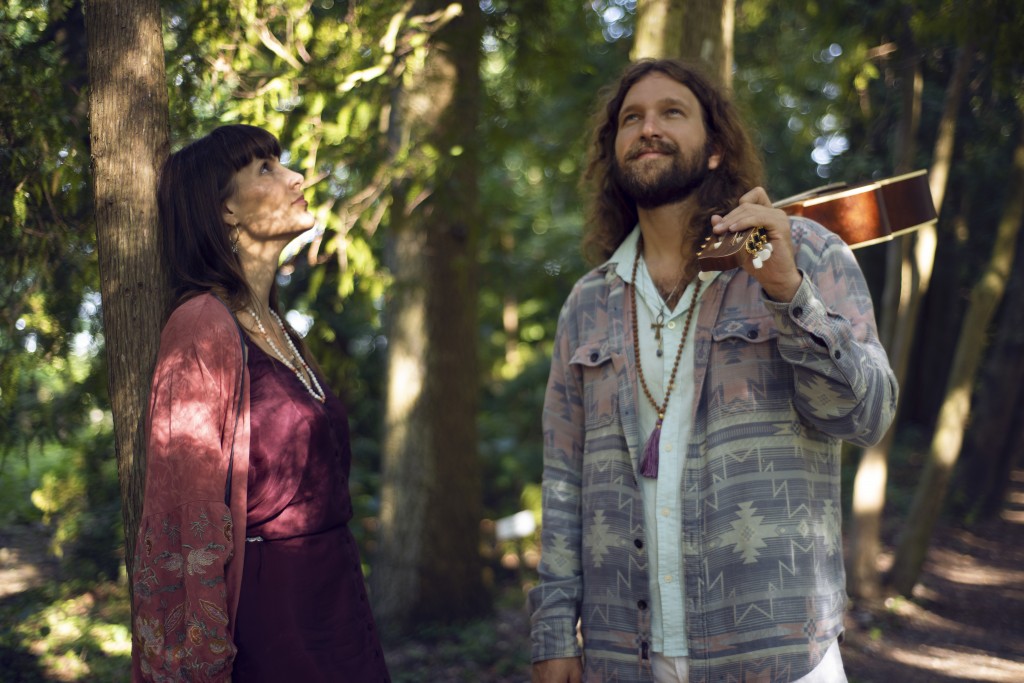 When did you begin to sing together and how?

We met in 2011, at a musical gathering, healing workshop. We were singing songs that were sang together at the gathering. There we fell in love and so we started to sing together those songs and other songs that Sigmund had already made and then new songs started to come through us both. First Rutt accompanied Sigmund on his original pieces, as a compliment and as time went by organically new parts to these old songs developed. In addition, totally new creations flowed through the both of us as we were improvising together. New musical pieces were birthed in unison through processes. Some came as instant inspiration, channeled through us simultaneously and other songs came when we were going through something strong in our relationship or life, as a healing process.
What is your journey and connection with cacao?
Sigmund first started with cacao in 2010, before the whole cacao scene was established. He was in Guatemala studying with the late Mayan elder Tata Pedro, so a strong inspiration and influence comes from there. He then brought home a lot of cacao.. Back then no one in Scandinavia that we met had heard about ceremonial cacao. In the beginning he was doing circles, inspired by the Mayan tradition, with fire ceremonies being the central part of the gathering. Connected with the mayan calender. As time went by we started integrating music into the gatherings to help open the heart and so it expanded from there.  In 2012 Rutt also spent some time in Guatemala and experienced heart healing through cacao ceremonies. Now we hold an eclectic space with concsious intention for opening the hearts and bringing more harmony to the body and soul. We no longer do fire ceremonies but focus more on the musical healing modality. Through our medicine music and sound healing with several different instruments, including high frequency crystal singing bowls, the Indian sitar, the monochord and other tools. We always honour the sacredness of the medicine that ceremonial cacao is and make sure to offer cacao that is sustainably harvested, fairtrade and organic, often sold by local small families or womens collectives.
Which lineages did you learn from?
Linha Unificada, Santo Daimi, Huni Kuin, Sami, Yawanawa, Ashaninka, Astec, Wixarika, Hindustani raga music, western classical music.
What is your message in the world through music?
To return to harmony with oneself with the other and with nature all around us. To keep opening the heart and expand the mind. To do our part in the healing of humanity and this world. That planet Earth may thrive in harmony with all creation and all sentient beings.

What activism are you currently involved in?
We are actively involved with helping the Huni Kuin village of Ni Yuxibu, by helping to rebuilding the village. Raising funds to strengthen their village. Supporting women in their artworks and handicrafts.
Which artists inspire you?
We have had many different inspirations during our life times. In the earlier years we were mostly inspired by the 70s artist, like Pink Floyd, Yes, Jethro Tul, Emmerson Lake and Palmer, Nick Drake, to name a few… In his early 20s Sigmund was inspired by the psychedelic trance scene… Today in our lives just to name a few again  – Huun Hur Tuu, Chandra Lacombe, Mari Boine, Lisa Gerrard and the Dead can Dance, Johann Sebastian Bach, Yanni, Darpan, Ravi Shankar, Anoushka Shankara, Jai Uttal, Bob Marley, Hedningarna, Hans Zimmer, Jorge Reyes, Loreena McKennitt, Peter Gabriel, Philip Glass, Raphael & Kutira, Terry Oldfield, Zakir Hussain.  And always indigenous and ethnic music..
Anything Else?
May love guide our lives
This post was written by Kim Booth