Celine, a lovely pure heart fairy, tells us about the creation of her 100% natural Calendula face cream, embodying the healing essence of the plant devas.

Calendula Face cream  – 100% natural ingredients and handcrafted with herbs lovingly grown in her Sebastopol countryside garden.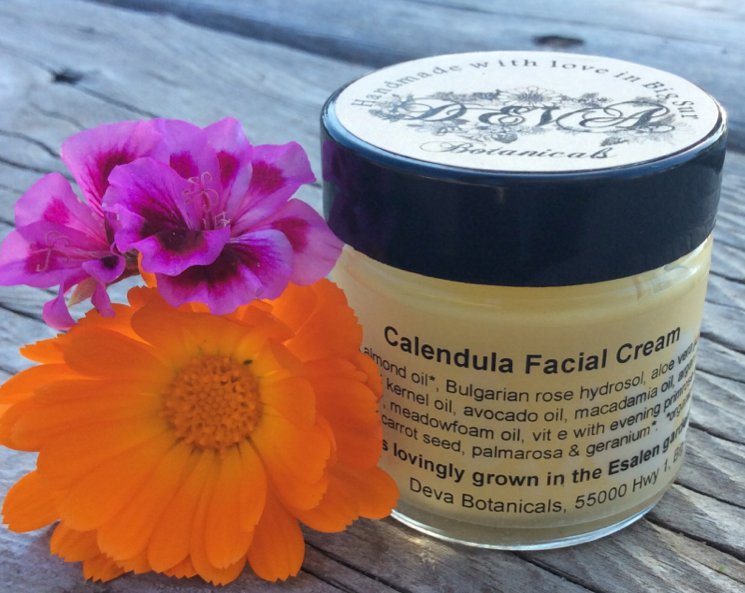 - Order details below
Inspired by the healing Way of plants, I cultivate and tend my gardens filled with flowers, food and medicine in the Sonoma countryside edging the wild coast and forests of northern California. Where the untamed ocean meets the majestic redwood forests, I am nourished by the quiet beauty, healing energy and fragrances of the plant Devas. Deva is a Sanskrit word for "shining one", an angelic being, or a sort of faerie. I borrow the usage of this word from Dorothy, of the Findhorn Gardens, who listened to the Devas of each plant, their loving consciousness and archetypal intelligence, and attuned with them.   Native California People remind us that when we pray to, thank, and sing to the plants, relate to them as we would our brothers and sisters, as to our family, they in turn reveal their secrets and gifts to us…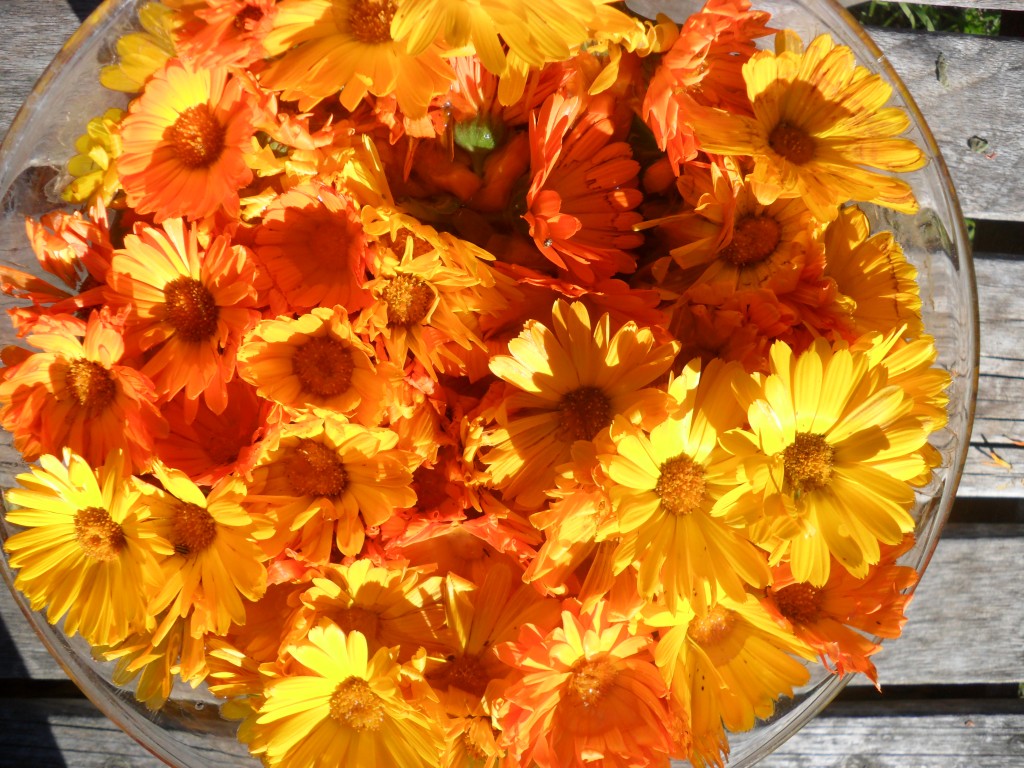 Medicine: Calendula has been long valued by native Mediterranean people as a medicinal herb, since at least the 12th century.  It is a magical "skin herb" and vulnerary, used to speed healing for any skin condition from eczema and inflammation, to dry and irritated skin, sunburns, cuts, bruises, minor infections, and insect bites.  The base of the flower has a sticky resin that is antimicrobial, antifungal and antiviral.  The bright orange or yellow petals are high in antioxidant flavonoids and have anti-inflammatory action.  Calendula is astringing, and can be used to tone facial tissue.  You can sprinkle calendula flowers in your salad, tea or smoothies and enjoy their gentle anti-inflammatory, lymph and immune boosting action.
Lore: Calendula has a long history in magical lore. It is bound to Sun and Fire.  According to Cunningham (Cunningham's Encyclopedia of Magical Herbs), pot marigold aids in protection, prophetic dreaming, legal matters and psychic powers.
To make my calendula facial cream, I gather the sunniest flowers from my beautiful gardens, seeded from the mama flowers grown on the sacred Esalen land of Big Sur, (now in their third (re)generation of seeding), and infuse them in sweet almond oil.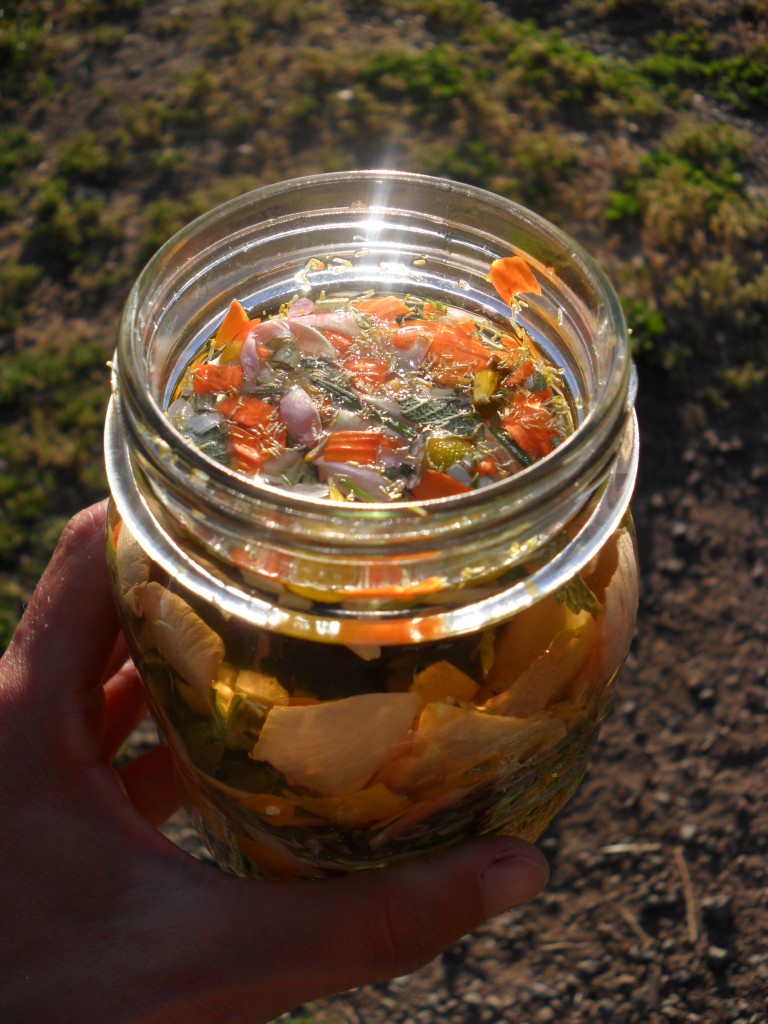 I blend my hand filtered, infused golden oil with high quality and pure, rich oils and butters, organic aloe vera juice, Bulgarian rose hydrosol and essential oils.  Deva Botanicals Calendula Facial Cream is a rich and moisturizing cream that is gentle while having a strong capacity to tone, regenerate and balance even irritated and delicate skin.
My hope is that by deepening our relationship with nature, and receiving the healing and loving gifts of the plant devas, we align and nourish our body and soul, and are inspired in the Way of gratitude and kindness towards the earth and all our relations.
O Magical Calendula
Open fresh your round of starry folds,
ye ardent marigolds!
Dry up the moisture from your golden lids,
For great Apollo bids
That in these days your praises should be sung!
—"I Stood Tiptoe" by John Keats
Latin: Calendula officinalis (Asteraceae, or Daisy Family). Also Known As:  Pot Marigold, Marybud, Gold-bloom, Summer's Bride, Bride of the Sun, The Sun's Gold, Bees-love, Oculis Christi, Mary Gowles, Ruddles, Solis Sponsa, Solsequia
Play with Calendula: It is an annual that is easy to grow in a fertile sunny spot and reseeds itself freely.  Picking the flowers will encourage more abundant blooming!  Dry the flowers in a shady ventilated warm area (like a paper bag on your windowsill, shake it up daily) and store in a glass jar away from light.  Make your own calendula infused oil by pouring olive or almond oil over about 2/3 jar of lightly packed dry/wilted whole flowers, close jar, leave in a warm spot away from direct light for 2-4 weeks, and filter through a cheesecloth, squeezing out as much precious golden oil as possible.
To order the hand crafted creams (*infused with the beautiful energy of Celine* – Kim), please email: celinelaubsch@gmail.com.
Costs
One jar = 1oz
$22 per jar + shipping
Shipping to Europe is $20 //shipping to US is $8-11
and $20 for the UK for up to 3 jars
This post was written by Celine
Calendula Facial Cream

Calendula* infused sweet almond oil, Bulgarian rose hydrosol, aloe vera juice*, coconut oil*, beeswax*, camellia oil, cacao butter*, apricot kernel oil, shea butter, avocado oil, argan oil, macadamia oil, meadowfoam oil, rosehip seed oil*, vit e, evening primrose oil, honeysuckle extract, essential oils of carrot seed, palmarosa & geranium*. *organic ingredients

Handcrafted with herbs lovingly homegrown in my Sebastopol gardens