A gathering to inspire authentic connection and regeneration for people and planet, Medicine Festival is happening 19th-23rd August 2021 in the UK. 

"…Our World is changing and we find ourselves in a time that holds both great peril and great promise.
Now more than ever is the time to seek new narratives, connections, skills and understanding to rekindle the fabric of community, redefine culture, celebrate the beauty and wonder of life and help us to restore our home, this sacred Earth.
Medicine invites you to come together to share the power of music and ceremony, the coherence and insights of ancestral wisdom, alongside solutions of modern technology and culture; the nourishment of food; the joy of laughter and celebration; and the inspiration of visionary thought – asking a simple question:
HOW CAN WE BE THE MEDICINE?
Medicine is a registered Community Interest Company (C.I.C). All profits will go to help empower indigenous peoples preserve and protect their land, traditions and wisdom. The gathering aims to inspire and empower the deep regeneration of our hearts, our communities and our world
'We do not inherit the earth from our ancestors, we borrow it from our children'
First release of Wisdom Keepers, wellbeing facilitators, music makers, artists, thought-leaders, healers, and change makers are released below: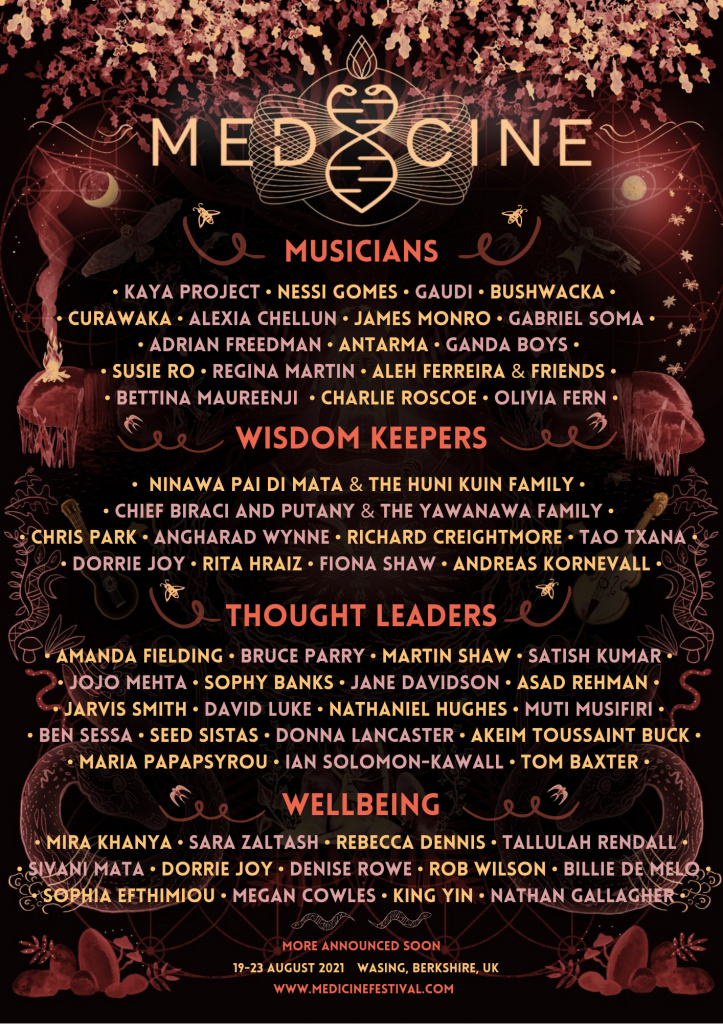 Located in the UK amidst the woodlands of Wasing, in Berkshire, in 2020 Medicine were honoured to be one of only a handful of events that were able to take place – proving that, with diligent planning and conscientious delivery, events can be run safely in these challenging times. Medicine will continue to work alongside the local authorities and comply with Government guidelines to ensure a safe event for all again this year.
If they are forced to cancel due to COVID all tickets will be fully refundable or valid for our 2022 gathering.
Find out more and join the 2021 festival here – https://medicinefestival.com
*Installment options and low-income applications are also available if you need support.