The medicinal and health benefits of turmeric are many. Read on to find out more, including a healthy food and drink recipe to get you started.

Turmeric, also known as the Indian saffron, has well-known anti-inflammatory and antioxidant properties. Used in ayurvedic, traditional Chinese and folk medicines, turmeric is thought to have many medicinal properties, including strengthening and protecting the overall energy of the body and boosting the immune system.  Especially beneficial in the winter months when your immune system may need a little recharge, read on for ideas how to incorporate it into your diet.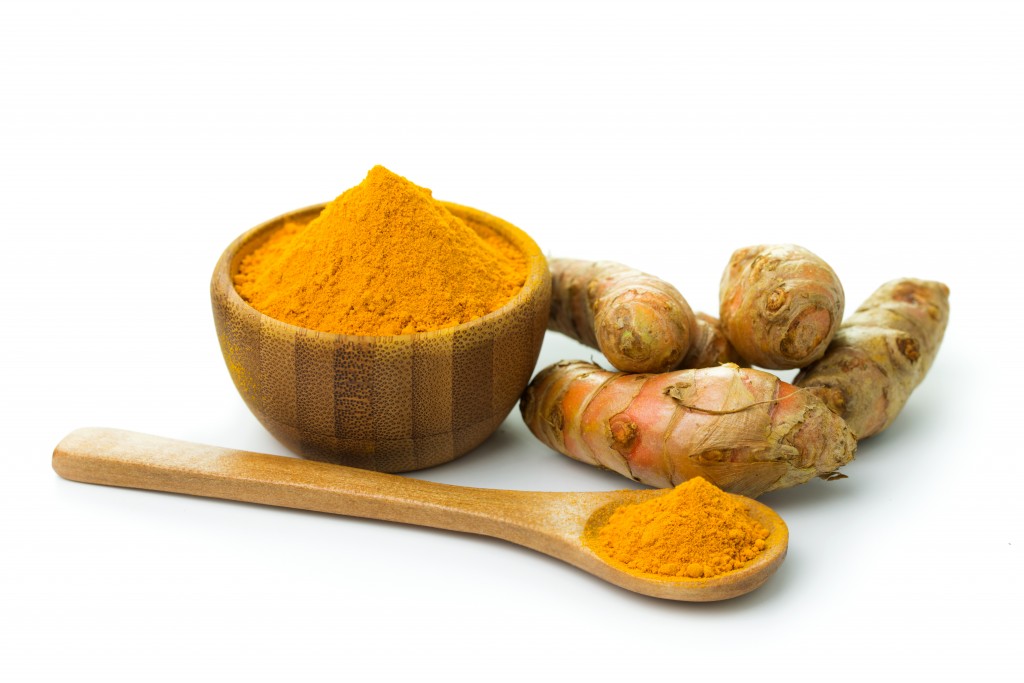 The main healthy ingredient in turmeric is curcumin, which gives turmeric its yellow colour. The potential benefits include:
A potent antioxidant
A powerful anti-inflammatory
Boosts your immune system
Helping you maintain a healthy digestive system
Supporting healthy bones and joints
Helping maintain normal cholesterol levels
Relieving gas and abdominal pain
Promoting healthy blood and liver functions
Regulating menstruation
Preventing the release of histamine in the stomach, counteracting food allergies
It is recommended to have a daily intake of turmeric in your diet. Here are a few easy recipes to get you started.
Golden Milk Recipe from Pulpd London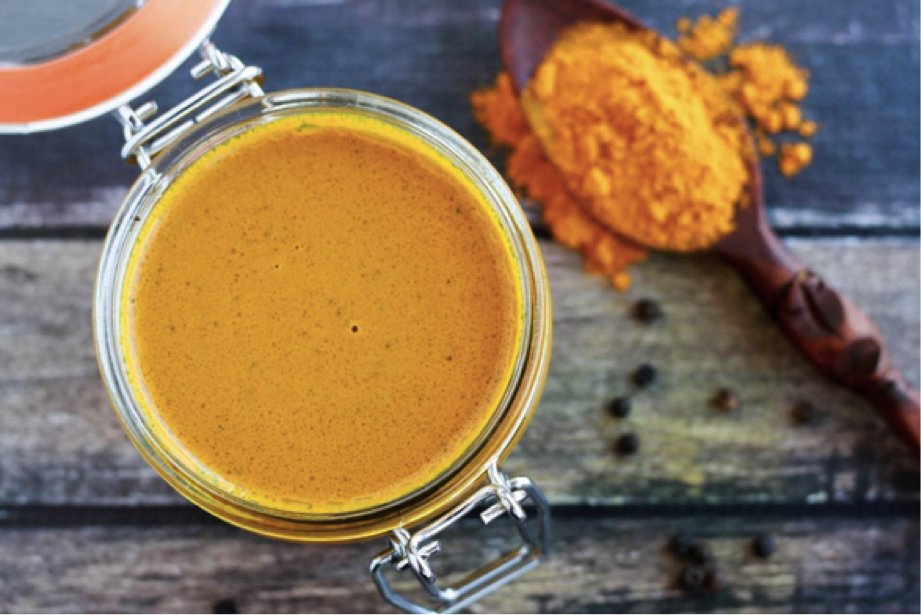 Turmeric tea or Golden Milk, is a great way to get the benefits of turmeric daily.
Try drinking a cup before bed to aid relaxation and boost the immune system whilst sleeping.
Ingredients
1 cup coconut or unsweetened almond milk
1 teaspoon turmeric
1 teaspoon cinnamon
1 teaspoon raw honey or maple syrup to taste
Pinch of black pepper (increases absorption of curcumin into bloodstream)
Tiny piece of fresh, peeled ginger root or ¼ tsp ginger powder
Pinch of cayenne pepper (optional)
Instructions
Blend all ingredients in a high speed blender until smooth
Pour into a small sauce pan and heat for 3-5 minutes over medium heat until hot but not boiling
Drink immediately
Charred turmeric cauliflower with chili & tahini & honey dressing from Crumble Food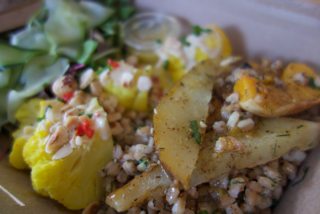 (Picture: Charred turmeric cauliflower sandwiched between a lightly pickled cucumber salad and a roasted pear, butternut and pearl barley salad as part of the Crumble Food lunch box delivery service)
Turmeric and chili are two things you should eat in winter,  this contains both – and cauliflowers are in season at the moment, so you're eating seasonally –  http://www.eattheseasons.co.uk
Serves 2
Ingredients
Cauliflower x 1 chopped into medium size florets
Ground turmeric x 1 heaped tsp
Sea salt x 0.5 tsp
Black pepper x 2-3 good grinds
Coconut oil x 1-2 tbs depending on the size of your cauliflower
Dressing
Tahini x 60 mls
Honey x 10 mls
Lemon x 1
Water x 2 – 3 tbs
Garlic x 1 small clove crushed
Salt x 0.5 -1 tsp
To serve
Large red chili x 0.5 – 1 depending on heat, finely chopped
Coriander leaves x small handful (optional)
Chopped toasted hazelnuts
Instructions
Heat the oven to 240 degrees C (yes super hot). Put the cauliflower, turmeric and salt into a bowl.  Melt the coconut oil in a frying pan or the roasting pan you intend to cook the cauliflower in.  Once melted, tip over the cauliflower and mix the ingredients well so that the turmeric covers all the cauliflower and turns it yellow.  Put into the oven at the high heat for about 10 mins, or until the cauliflower has softened but retains a bite and has some charred black crispy bits on it.  Remove from the oven.
Whilst the cauliflower is cooking, make the dressing.  Mix all the dressing ingredients together in a bowl and stir gently until you have a runny-ish dressing (about the consistency of pancake batter).  Add more water as needed.  Do not stir the dressing too much otherwise you will make the tahini seize and the dressing will thicken again.
The salad can be served in two ways.  Either lay out the cauliflower on a platter and drizzle with the dressing and scatter the chili and coriander on top OR for a more relaxed snack vibe, add the chili and coriander to the tahini dressing and use this as dip for the slightly cooled cauliflower florets eaten straight out of the roasting pan with fingers.
This post was a joint collaboration with Crumble Food and Pulpd Juice.  Both deliver to your work place, allowing you a healthier food and drink option from the comfort of your desk.
 Check also this piece on health benefits of turmeric.