Cosmic Pineapple chats to Melissa Maouris ahead of HeForShe London Arts week: "We've obviously come a long way since the women got the vote, however there's still a long way to go."
What is HeForShe?
UN Women's HeForShe was launched in 2015 by the then UN Secretary General Ban Ki-moon and UN Women Global Ambassador Emma Watson, with the aim of engaging men and boys in conversations and encouraging the entire population to take action for equality now.
HeForShe is a global movement and in March, each year, around the world HeForShe Arts Weeks involve artists and performers from all disciplines in support of gender equality – after all, the arts help to shape and reflect culture and together we can change culture for the better. London will be one of the primary HeForShe Arts Week cities with events in music, dance, theatre, performance and visual arts occurring all over the city from March 8-March 15.
What are your recommendations as part of HeForShe?
I'd recommend the Needs x HeForShe event happening on Sunday 11th March at Oval Space, exploring gender equality in the music industry with daytime panel discussions from some big stars following by a night time party with Jackmaster, Peggy Gou and special guests. Tickets are here.
Also Kate Simko & The London Electronic Orchestra with Katy B and guests at the Royal Albert Hall on 6th March.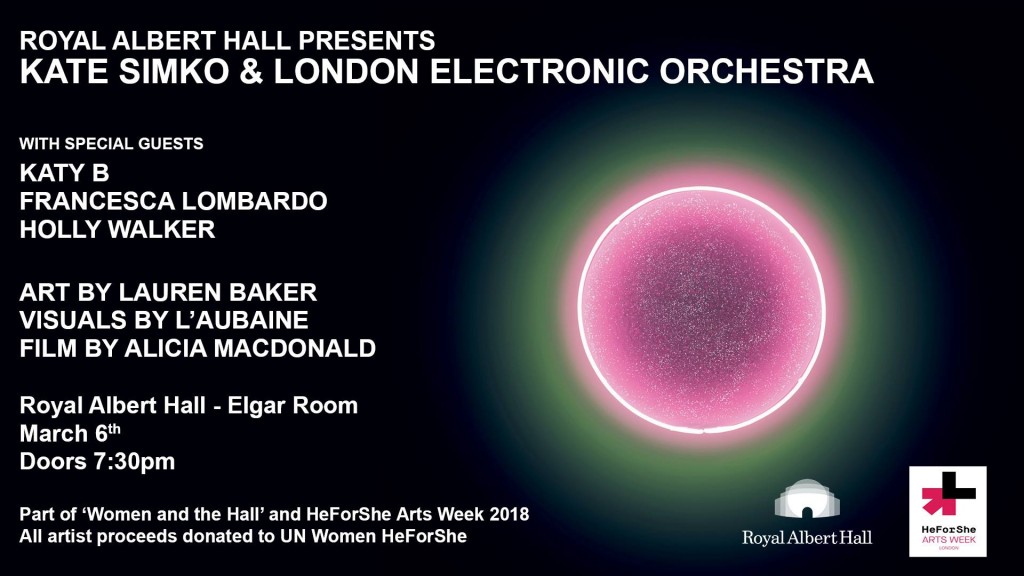 The screening of Bombshell at the BFI on 8th March with panel discussion from producer Susan Sarandon, the all day and night shenanigans at the Vaults festival on 9th and 10th March, and The Art of Consent event at Rich Mix on 15th March, screening the award-winning documentary 100 Women I Know with spoken word, an exhibition, VR and more.
All of the events for HeForShe London Arts Week can be found here https://www.londonartsweek.org/events-1
What would you like to see happen in terms of gender equality? 
We've obviously come a long way since the women got the vote, however there's still a long way to go. Data shows there is parity between the sexes in industry until the age of 30 and then women's pay, status and often confidence drops off. One of the most important jobs in the world – becoming a parent – is still not valued properly with maternity and paternity rights and work cultures still stuck in the dark ages when it comes to supporting women and men in this major transition. When a man wants to stay at home and raise his child it's still often joked about just as if a woman wants to commit to both her family and her career she's seen as unrealistic. It would be great to see more flexibility and acceptance of differences and a changing of expectations both in work and social situations.
How can culture create this change? 
Culture is always at the forefront of social change. Our governments and corporations are led by trends, now more so than ever. When the people speak, the ones in power listen so they can stay there. So the more noise we can make in the world of the arts the better, as it will be heard and responded to quicker than we think. Also when we come together to share our views we broaden them, so the arts can be a powerful instrument to create acceptance of issues individually as well as on a broader scale.
How can we treat each other as equal and also honour the differences? 
There are many cultural stereotypes afflicted on both sexes which are frowned upon when overstepped. Why is it not ok for a woman to be forthright and assertive? Why are they called bossy when a man wouldn't? She should be able to be which ever way she chooses in the same way a man should be able to be vulnerable if he so wishes. We are all individuals and we should all have free choice.
What has been the most inspiring action you have seen for gender equality?
That's a good question. There's been a lot happening recently but I'd say the gender pay gap legislation is a big one. There's still a way to go but we're moving in the right direction to ensure people aren't getting paid less simply because of a birth right they have no control over. Also the #metoo campaign was a huge turning point for women and a chance to finally begin to let go of some shame that was never theirs in the first place.
Our UN Women's Draw A Line looked at a campaign to end violence towards women, which unbelievably happens to 1 in 4 women in the UK. We had all sorts of celebrities sign up to draw a line under the atrocities that are happening both here and throughout the rest of the world. More info at http://drawaline.org.uk/
To hear more about the events and donate to the HeForShe campaign head to londonartsweek.org