Sharing Beautiful Gifts of Nature with Love – 100% natural and organic skincare, handmade in Ibiza. 
Medicine Woman Ibiza was born out of pure love for Nature. Guided by sacred plants, I create high frequency skincare, made with natural and organic ingredients. What comes from Nature is good for us, therefore I use NO fillers, NO preservatives and NO chemicals of any kind… Only the highest quality, potent, organic and pure plant ingredients are used in the creation of Medicine Woman Ibiza products.
The skin, being our largest organ, absorbs everything we apply on it. Therefore it serves our best interest to be mindful of the self care products that we use. With this in mind I create a range of wonderful products, such as Rejuvenating Face Serums, Anti Age Creams, Regenerating Body Oils, Womb and Skin Elexirs and some other potions…
Here is an example of one of the potions I create, and this one is my best seller:
Ibiza Glow
Rejuvenating – Nourishing Face Serum 
Price: 30ml – €50.00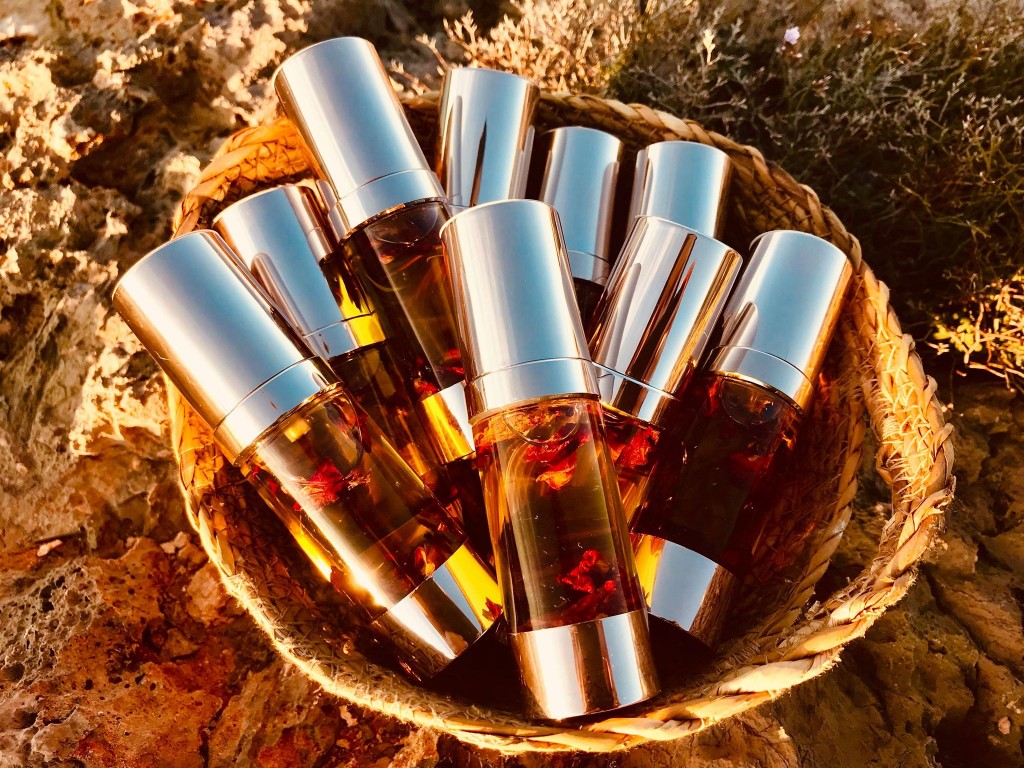 Ibiza Glow is a very special face serum which will truly make you glow. It is such a well balanced formulation, that it is perfectly suitable for all skin types. Infused with the highest quality of CBD, Vitamin E, Geranium, Frankincense, Myrrh and Palmarosa… It is heavenly for the senses, smelling like a divine flower garden, the main scent being of roses. When applied on the skin, it is absorbed in seconds, leaving your skin feeling soft, beautiful and well nourished.
The purpose of Ibiza Glow is to deliver nutrients into the deep layers of the skin, providing gentle hydration and nourishment. It can become a wonderful daily ritual, for the morning, the night, or both.
Benefits:
Antioxidant rich
Repairing and Nourishing
Calming and balancing
Gently hydrating
Regenerates mature skin
Anti-inflammatory
Instructions:
Apply one squirt of Ibiza Glow on your fingers, than massage it into your face using circular motions. You can also use one extra squirt to apply to your neck if you feel you need it. Always wash your hands and face before application. You can use it both morning and at night, or just once per day if you feel thats enough for you. Let your body be your guide. Feel like a Queen and Enjoy <3
This post was written by Medicine Woman Ibiza
_______________________________________________________________________________
Please get in touch if you would like to receive a full copy of Medicine Woman Ibiza Catalog <3
Email: info@medicinewomanibiza.com