A journey review into Cosmic Pineapple's fifth instalment, exploring the element of Love. 
I started the Cosmic Pineapple website in March 2014 with the intention to share good vibes and information from healers and magic people around the globe, and to share what I had been learning personally. Since 2005 I have been able to travel in the winter and I have lived in communities around the world, receiving teachings on different ways of being. I wanted to bring some of this wisdom back to my world and share it.
Last year, Cosmic Pineapple developed into an event series at Pikes in ibiza. My intention here was to merge the music and magic side of Ibiza. I first came to Ibiza when I was 16 and fell in love with the island. This trip shaped my study choices in college and somehow in this mix I found a deep love for electronic music and began working in it when I was 18. I worked my first summer in Ibiza when I was 21 and have been in Ibiza every summer since, albeit a few summers on and off. One thing I know, is that when the spirit of Ibiza calls you, she really does! I have explored all the rave aspects of Ibiza; I have worked at pretty much every club on the island. I have also explored the more spiritual side the island, more so over the past few years, going deeper into the spiritual offerings; each year I am finding out more, connecting and learning more of the island's cosmic heart beat.
In 2016 we focused on the elemental wheel for Cosmic Pineapple – with four events exploring the elements of the medicine wheel – earth, air, fire and water. The main thing I can say is that they were great! They were huge learning experiences and with each focus we consciously and subliminally went through these elements. We had a safe water talk for the water, and focused on flow yoga, whilst mermaids swam in the pool. We had a gardening workshop for earth – I never learnt how to plant vegetables until travelling and wanted to bring this element out! A tantra workshop and kundalini yoga for fire, and meditation for air (the mind)… As well as much more that I can't remember now. Each event had a different charity focus so you were, in a sense, celebrating for a good cause and connecting for something higher than yourself. I am also big on art as a transformational tool and we had art workshops, live art and more.
I have been partying (raving) for over half my life now and my dream with the cosmic pineapple events is to inspire a more conscious way of doing it… I.e. not getting totally lost in it, but allowing the music and connection, dancing and creativity to transcend and lift you higher, and for it also be a healing experience (I feel a lot of people attracted to raving need healing of some sort, in my experience anyway… Or maybe this is just the humans living on mamma earth right now!). I also love the mixing of energies and how combining different energies can bring about some magic!
This year, a beautiful collective again came together. Last year doing four events in close proximity was a bit too much for me, so I decided to only do one at the end of the season and complete the elemental cycle with the fifth element, which is Love. Or Ether, depending on what scale you look at. But as the definition of Ether is 'the energy that exists beyond the physical realm', I felt that Love and music could go well within this!
I would like to walk you through the event and in doing so will give thanks to the people involved!
Firstly, I would like to thank the wonderful people at Pikes, they were super supportive in making this a community effort and went to huge lengths to make this happen in the magical way it did! They made food and tea for all the workers and for this we were so grateful! I designed Cosmic Pineapple to be a 12 hour ceremony, from start to finish. Where you can do only a part of it, or the entire journey. Pikes is really an Alice in Wonderland playground for adults and children… There is something for everyone!
To come inside,  you entered the rainbow. A rainbow represents connection to spirit and all colours coming together as one in unity. Here you gave a donation and were free to explore all the happenings inside.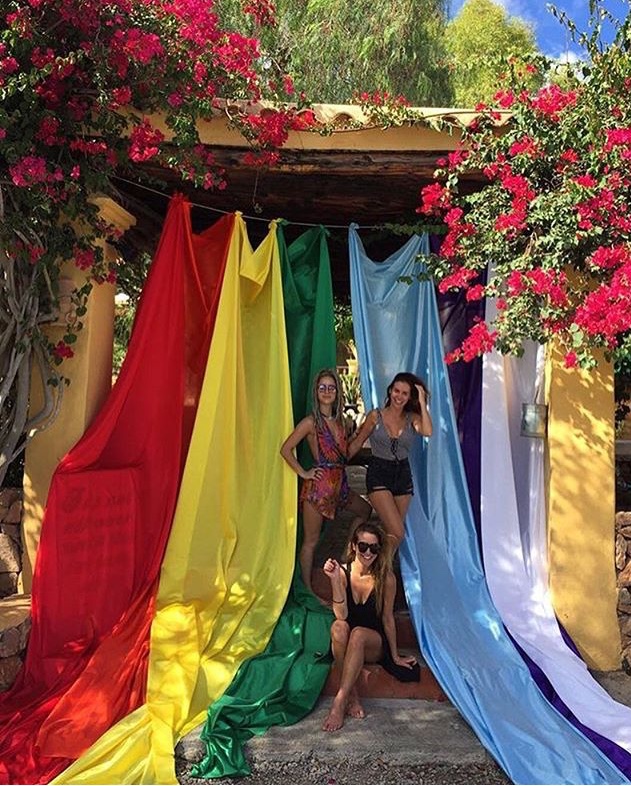 Just besides the entrance, the healers held space offering tarot, bee healings, soul readings, reiki, massage, multi dimensional crystal healings, sound healings and more. It was lovely to see people in this energy!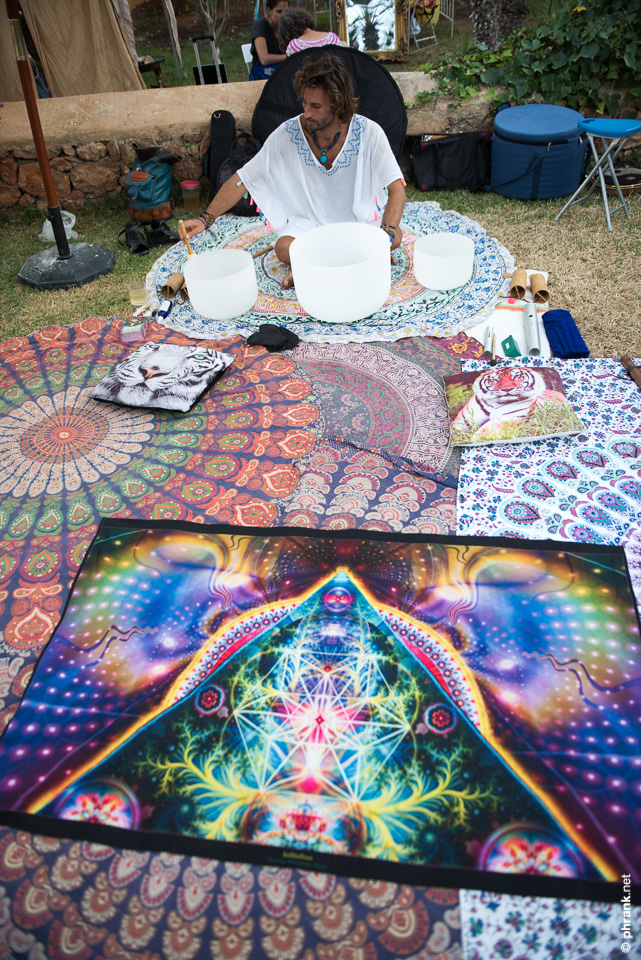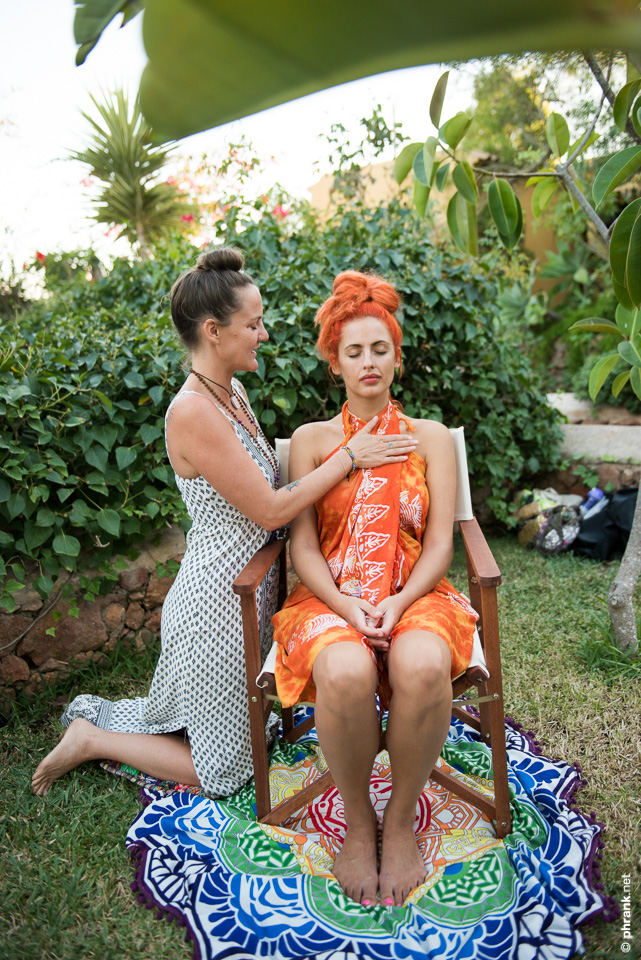 We opened in the Cosmic Activation area with drums from the Ibango drumming tribe and the opening ceremony from Soul Song Ibiza. Which is a duo from the Netherlands, comprising of a magical lady called Lex Empress and her virtuoso piano playing partner, Gillian. With the help of Carli SuSu they called in the directions, connecting us more to the energy of the north, south, east and west, father sky and mother earth. With crowd participation, Gillian channels the music and Lex channels the words. Lex has this voice that instantly gives goose pimples when you hear it. After calling in the directions, everyone set to work. The Cosmic Activation area was run by Soul Adventures, which included a breath work class, flow yoga, meditation and closed with a beautiful full moon kundalini, gong and mantra workshop by Trish and Jaya Lakshmi. It was such a special energy!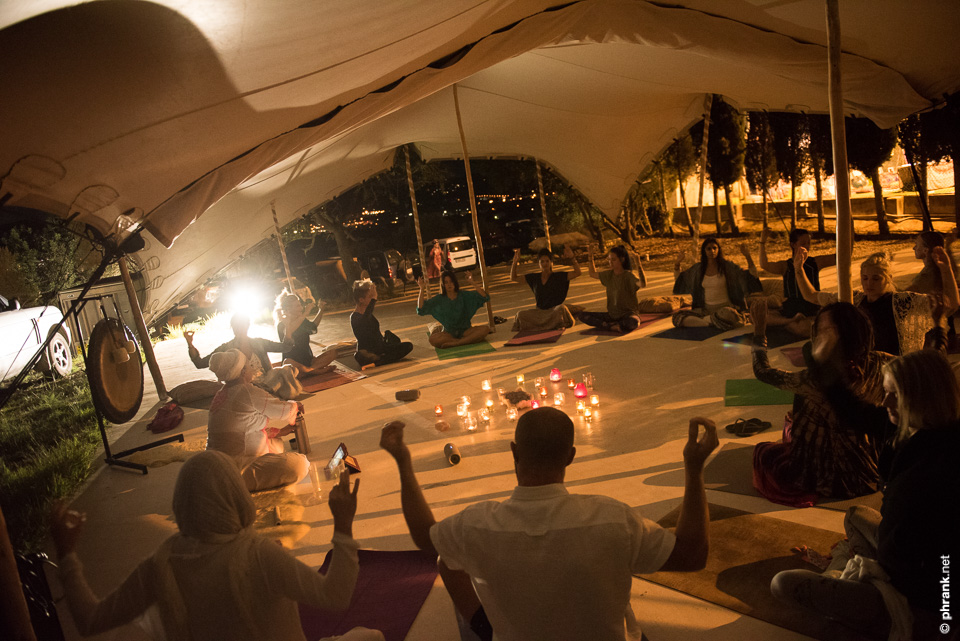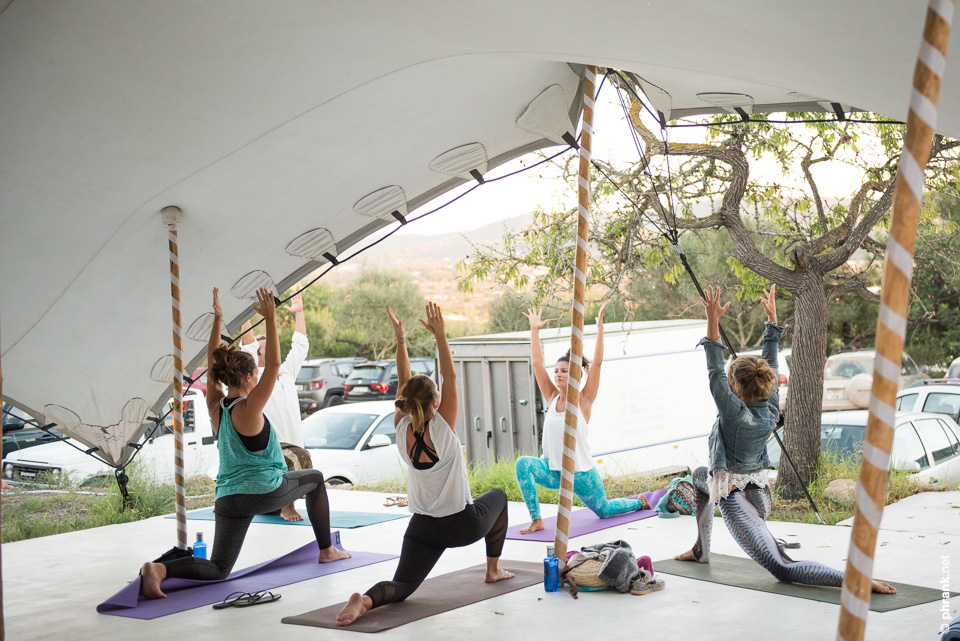 The Pink Tennis courts, run by the amazing Once Upon a Time Ibiza ladies, had market sellers from across Ibiza, selling everything from vintage and designer clothes to chocolate to eco glitter and more. Pippi Sol made a guest appearance and we also held workshops for Hula Hooping, Belly Dancing, a cacao dance ceremony and an art corner with a mandala painting workshop, kids art corner and more! It was great vibes and I was very happy to be able to give cups of Pukka Love Tea to all the workers.
Around the pool we had music from 4pm with guests like Olly Dixon, The Brothers Grim, Ken Fan, Robert James (does disco) and Sabaluna dropping in for poolside sets. Mermaids held the space and we served healthy food and drink options from the bar and restaurant, in which at special moments you could see drag QUEENS Babyjane and Tim looking down from, observing the people from above. One of my favourite moments around the pool was hearing the Sabaluna girls playing Kings Of Tomorrow 'Finally', a song that reminds me very much of when I first started working in dance music, as I worked for Defected when this came out!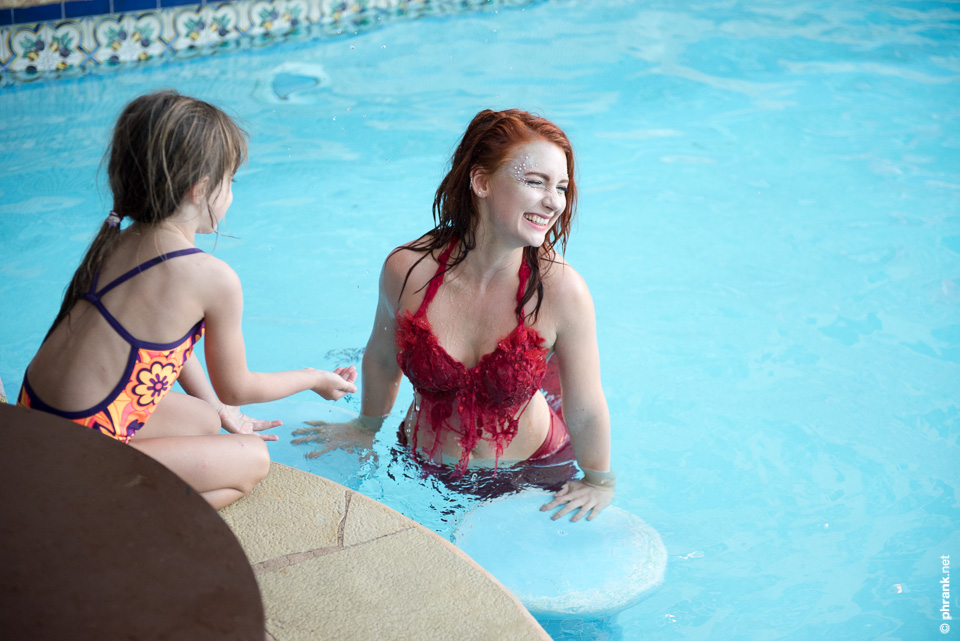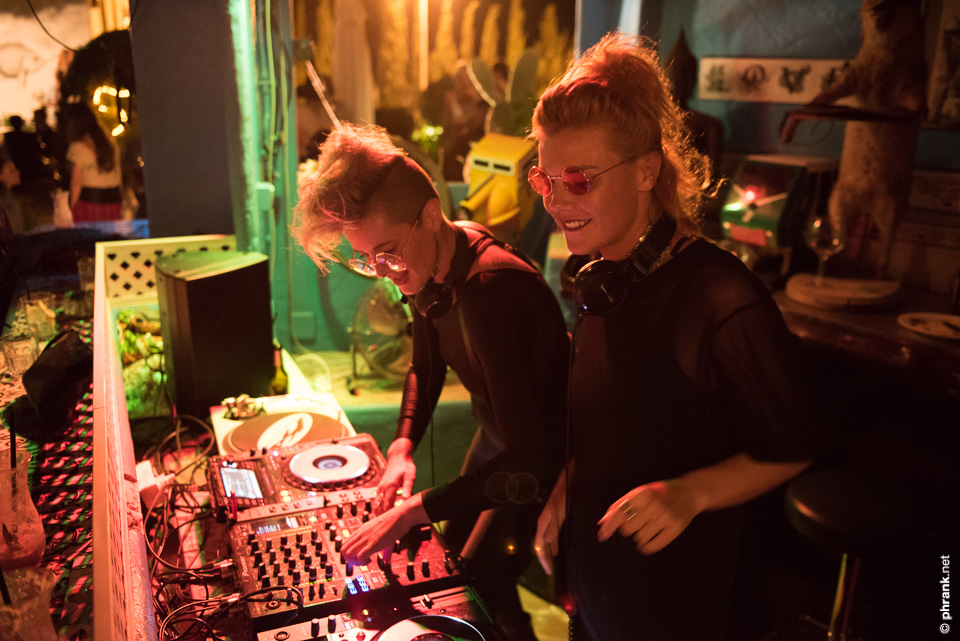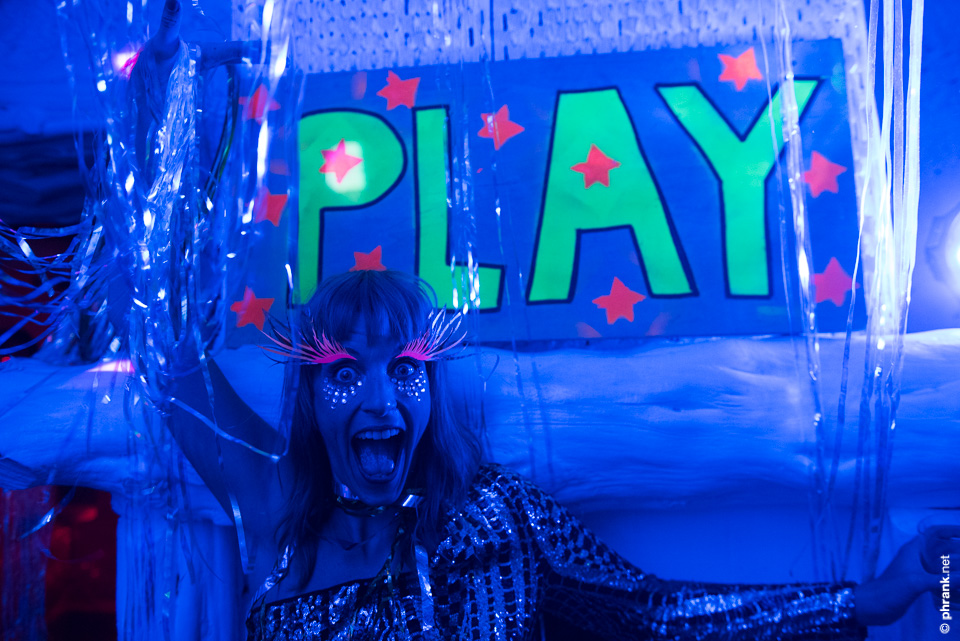 Wandering around the grounds of Pikes, you could spot BabyJane and Tim walking around making sure the cosmic vibes were high and magical. Lex Empress was to be found singing soul songs in a secret corner, biodegradable eco-glitter was spread around, a couple talks didn't happen because I overbooked (lessons learnt for next year!) and I was running around with no shoes, mostly saying "Fuckfuckfuck! Cosmic" as I realised I had forgotten something (mostly signs and schedules). One thing I liked to do was, whilst running, finding someone who would be perfect for a class just about to start and directing them into it saying 'enjoy' and them having no knowledge of what it would be!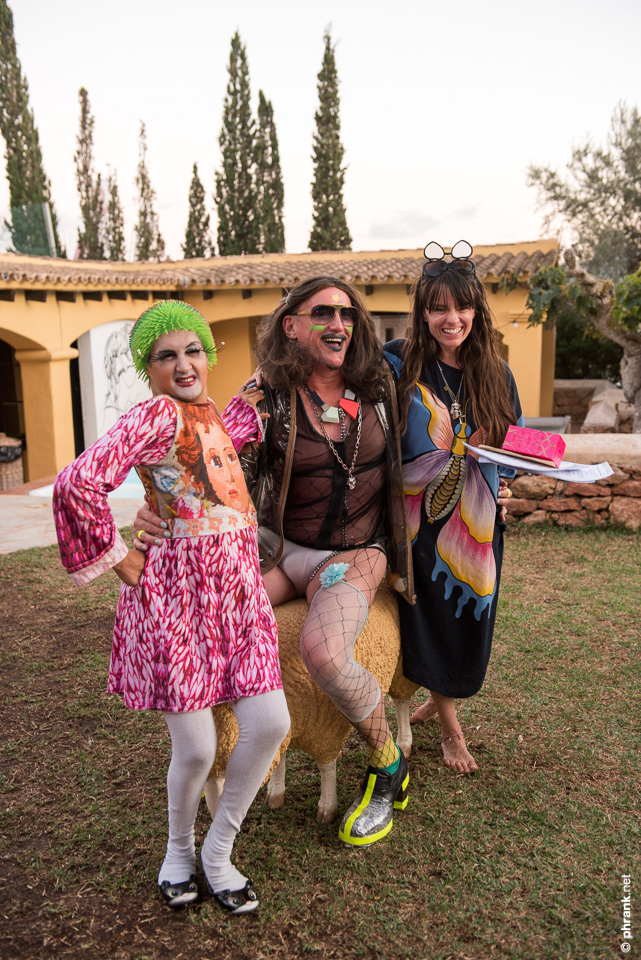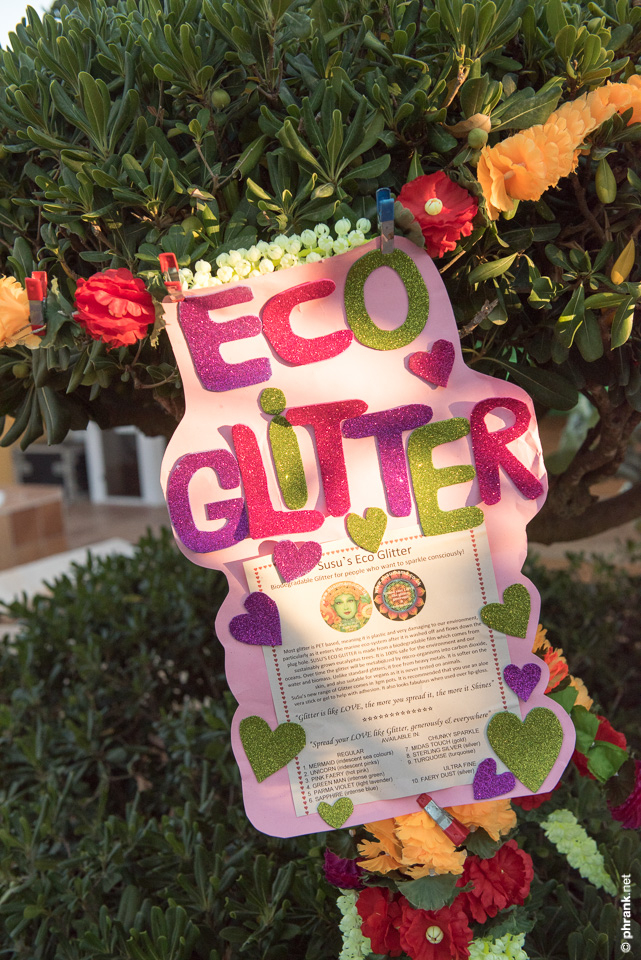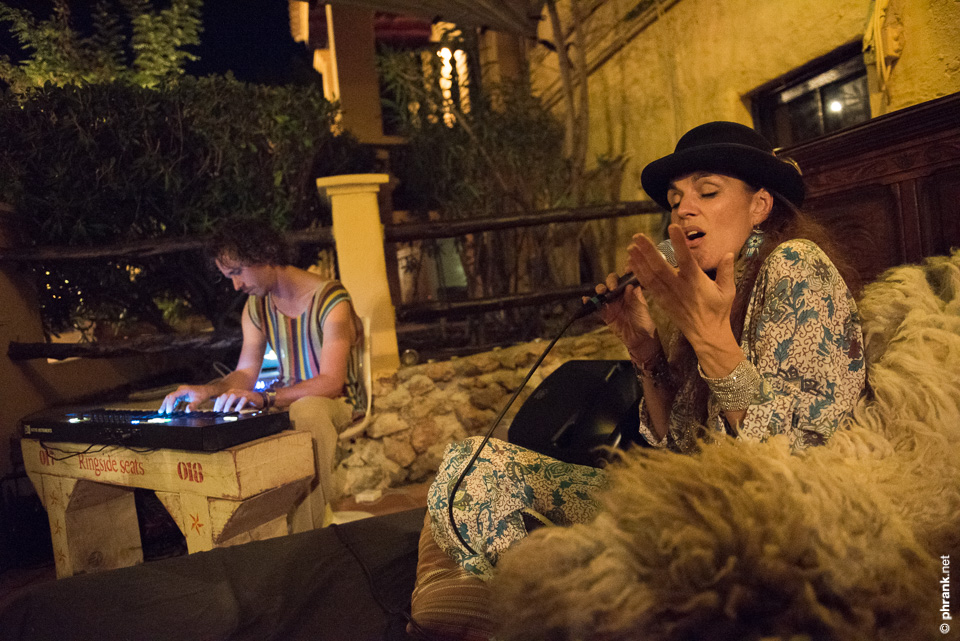 Last year we didn't quite get the Cosmic Cave right and this year I wanted to put more focus and attention in to it. My dream was for it to be a safe underground womb like space. We opened the Cosmic Cave at 7pm with a womb blessing ceremony from Cyd. Literally an hour before my friend Genia from Moustachio had arrived with loads of cushions and blankets to transform the space into a Moroccan corner (inspired from a chat from when I sat around hers after yoga a few weeks before). Usually Fez is a room for dancing, but we transformed it (with sage, incense and candles also) into a space for resting and enjoying. One of my favourite visions of the whole event was looking into the door and seeing Cyd with her drum surrounded by incense smoke and candles just before they were to begin. I messed up a bit on scheduling and had put in a tantra workshop in just after this, and as everything was running late, Coco had to cancel her workshop (I love her workshops and that she is holding this energy in ibiza!). So after Cyd, we moved into the vibrations of sound healing. I organised for three different sound healers to have an hour each to explore the vibrations of sound healing. I organised it like DJ sets and it was so amazing to see people come in and out, with eyes bright and a relaxed energy as they had been healed by sound (as Edgar Cayce said, "Sound will be the medicine of the future").  I have been working with the crystal singing bowl energy since the beginning of the year and have been really feeling its power. I did my advanced yoga teacher training in Guatemala, and on the site we had an Om dome, which I spent a lot of my off time in with the bowls. Since this happened it is amazing how they found me and I am now working with them and sharing them with others. We had Alex Young come and do a sound session with Alchemy singing bowls, Alex also works with kundalini and light, Steph Reynolds gave a multi instrument sound healing and also works with Kundalini energy, and Paolo, who has a very cosmic approach to all things sound and healing, gave the final sound healing of the night. We closed this at midnight and I was super happy to bring this energy in!
Then we had the Space Rave. Last year we had amazing DJs like Craig Richards, Carl Craig, Josh Wink, Danny Daze, Ellen Allien, Jamie Jones, Shonky, Mirko Loko, Kate Simko and more all play in the Space Rave, with the aim to explore the higher frequencies of sound until 4am. This year, I booked Actress to come and play his first set on the island. I love his album 'AZD' and was very excited to bring him to the island and play in this special space (it is Freddie Mercury's old bedroom and has some crazy history). I found out mid-afternoon that BA wouldn't let him on his flight because of some ticketing mistake, so we had no Actress to close. But luckily, we had made a robot in one of the art classes (he uses a robot in one of his live shows), so put that in the Space Rave instead! (You have to make do in these situations!). Musically, first we had the really nice warm vibrations of Hinnise, who is a Mexican artist bringing a new sound on the island, next up was CiCi, who is a powerful DJ of the rave already doing great things, she set the mood perfectly for one half of Acid Mondays, and known cosmic explorer Alex Wolfenden, alongside Gary Todd to get deep and high into the cosmic vibes, with special guest Ali Love singing over the top.  They ended up playing for four hours and really held the room, with one of my highlights of them playing 'The Way' by Global Communications, a track originally out in 1996.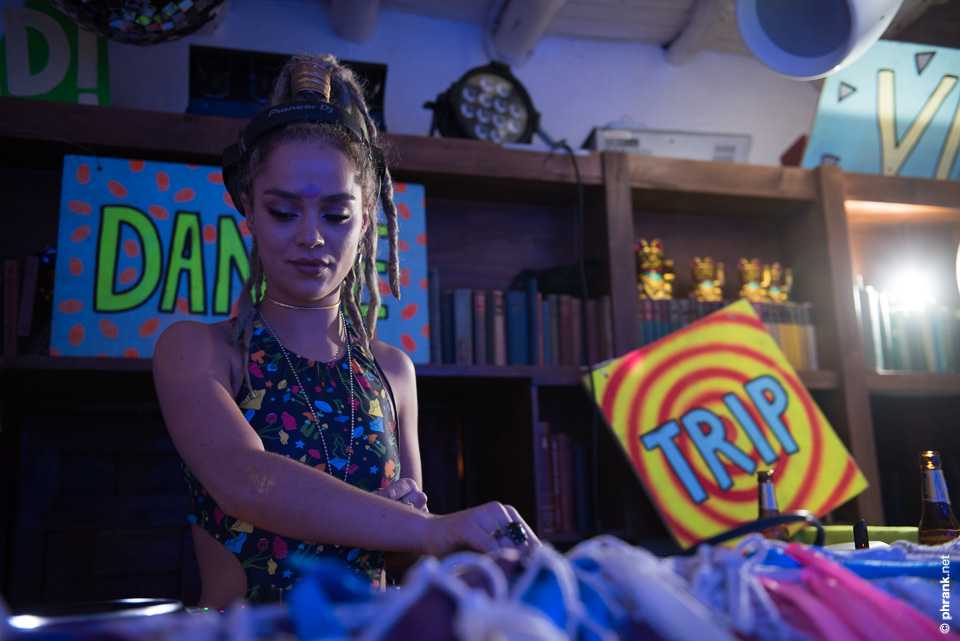 I left at 3.40am to go to the pink tennis courts to set up my little gift for the event's closing. When I travel I spend a lot of time outside and have taken part in various fire ceremonies around the world, in fact this has been a strong part of may life since I lived on a horse yard as as teenager. We had borrowed a fire pit and stand from a friend earlier that day and set it up on the centre of the tennis courts. I found some dry wood lying around, some kindling of pinecones (which represent the pineal gland, just like the pineapple does in the Cosmic Pineapple intention), borrowed a lighter from the security and I started to light the fire on my own in the centre of the court. It slowly began to set alight and out of nowhere a big huge man, that reminded me of Samuel L Jackson, stepped into the court and asked me if I needed some help. He fanned the kindling and the big piece of wood started to burn, whilst I prepared the other bits for the closing ceremony. Two young men leaving the party then came to see what we were doing and I gave them each a little piece of paper and told them to write down one word that they wanted to let go of into the flames. I then gave a piece of paper to my helper friend and asked him to do the same. He took the pen, wrote on his piece of paper and I asked him what his name was. He smiled and replied 'Control', put his paper in the fire and then walked off! In the magical side of my brain, I was like wooooooow, well cosmic.
As he disappeared into the air that he arrived, I asked the two young men what they had written on their papers. One said 'negativity' and his friend was like "me too!" and they both stared into the flames. At this point everyone came down from the party to go home. They saw the fire burning brightly and gathered around it. I eventually managed to shh some happy party goers and we had a little moment where we honoured the full moon and I asked them all to write on a piece of paper what they wanted to let go of (full moons are great for letting go, whilst new moons are for new beginnings). I loved witnessing people think and let it go, some were thinking about this for the first time and it was ace to see them intentionally let go.  Then I got a little voice inside tell me to do a call and response song. I struggled to get the words out, but with the help of my friends behind me and two fairies opposite me, who gave me total unconditional love as I tried my best, we managed to do it! I got the words wrong, but the feeling was there!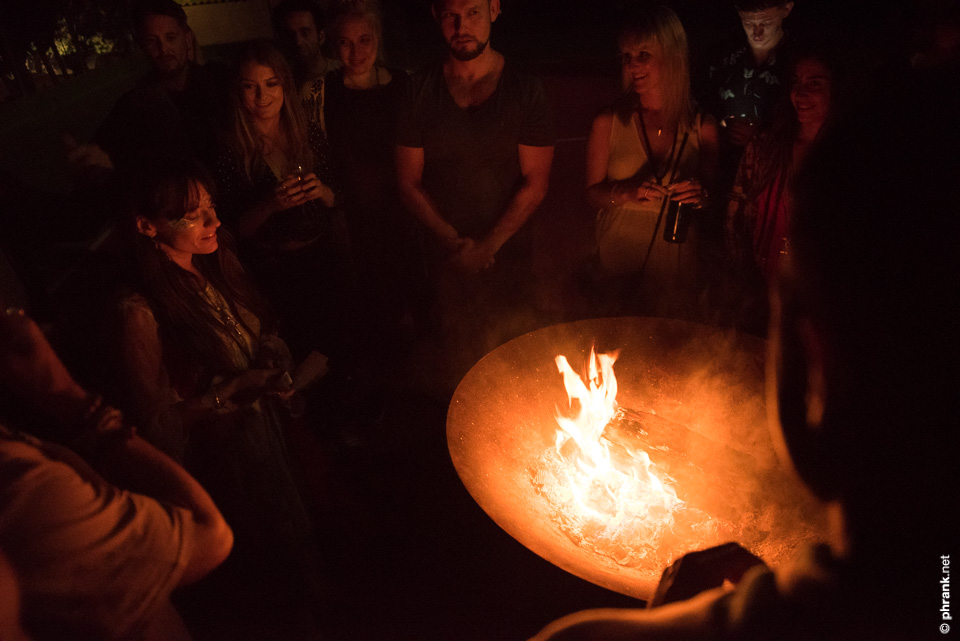 I am a believer in magic. The natural kind of magic that when you set your intention and let the universe do its work, something beautiful can happen. Sometimes life presents you with situations that knock all of the magic and belief in magic out of you, but with the help of friends and, for me, beautiful people coming together in service and to create something special and bigger than themselves, that feeling comes right back into your heart.
One of the most magic things is the money we raised for charity this year!! Last year, we didnt quite get the balance right for charity donations, but this year, I made it so that people had to donate to enter the ceremony (for me, Cosmic Pineapple is a ceremony) and could receive something as they did! You could either pay ten euros and enter, or 15 euros and receive a pair of Love Specs also (and see love heart rainbows everywhere), or pay 30 euros and receive a Choose Love T shirt also and support Help Refugees UK. Between all the charities we managed to raise 6,ooo euros! which absolutely blew me away when I found out! I am very happy for this and it has inspired me for what is possible!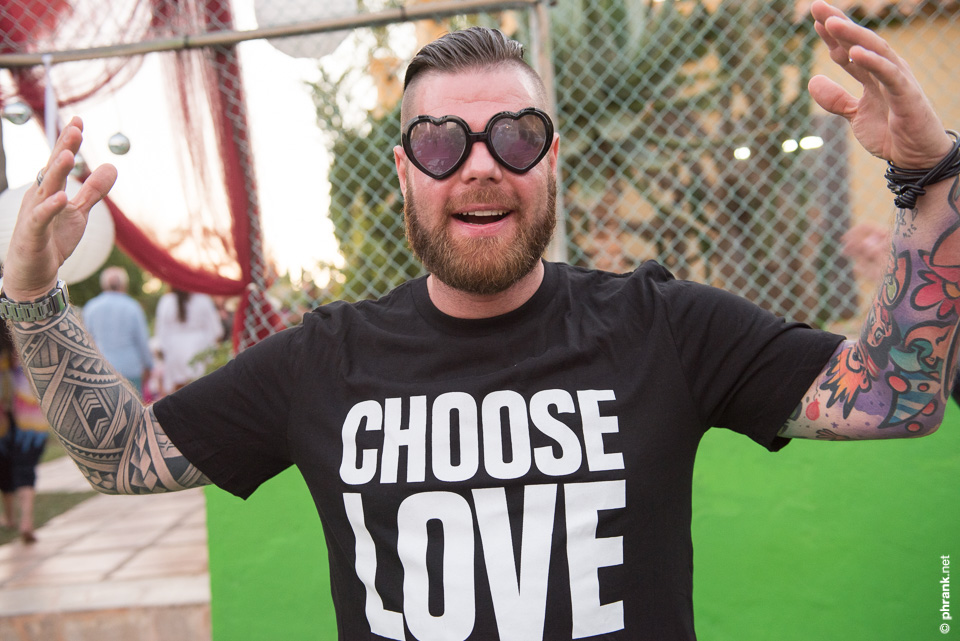 Thank you also to the ace media support, Acid Sundays for lending their decorations, Jude for putting up the Space Rave, Mauk for picking up the Queens and all my friends who gave me the belief that this was possible! I know I will have forgotten people to thank, but please know that I thank you from the bottom of my heart! I loved seeing the love between friends and the love between partners, especially the men who came to support the awesome women holding space in their dances and teachings!  The best feedback I have had is how happy everyone was and this feels great energy to my heart, even though I was running around swearing

Hopefully next year I will be a little calmer. In fact, one of my lessons to learn this winter is to really slow down and be a little more grounded!
Thank you to Phrank for the amazing photos!
With love and gratitude and respect! Kim xxx