Cosmic Pineapple begins the cosmic 2019 experience with an Ibiza retreat on the spring new moon. Plant cosmic seeds, embrace the magic of possibility and blossom to your fullest potential… 
April 3 – 7: Cosmic Pineapple four day cosmic and creative retreat in Ibiza
The April 5th new moon arrives in the energetic sign of Aries, the first sign of the zodiac and the sign that marks the astrological new year.  As we shed the winter layers and emerge from our cocoons, the days get longer and a spring time rebirth begins. The creative fire of this sign and the powerful new moon it brings is a magical time for transformation; to awaken your passion, joy and to step into your true potential and purpose.
Overview of cosmic intentions:
When I started Cosmic Pineapple the main intention was to plant seeds of cosmic awareness and to help awaken the inner seed within.  As the website has evolved into events and now retreats, which allow me to work closer and deeper with people, I get to experience changes on a beautiful level, both with the people I work with and inside myself. This retreat, which begins a summer of events in Ibiza and more, will focus on awakening our inner seeds of potential and our inner fires.  We will work with yoga, meditation, mantra, creativity, cacao medicine, heart connection, nature connection, element connection, astrology, sound journeys, lovingly prepared organic vegan food and drink, and allow the magic to unfold on each of our journeys within this beautiful safe space.
The retreat will be held in a stunning beach house location  in the north of the island. We are nestled into the forest in the hills opposite the beach in stunning nature with a fabulous yoga deck suspended in the trees and a gorgeous indoor yoga shala, a pool.  There is lots of spaces to BE,  we are five minutes door to shore to the gorgeous Cala Xuclar and we have incredible sunsets every evening.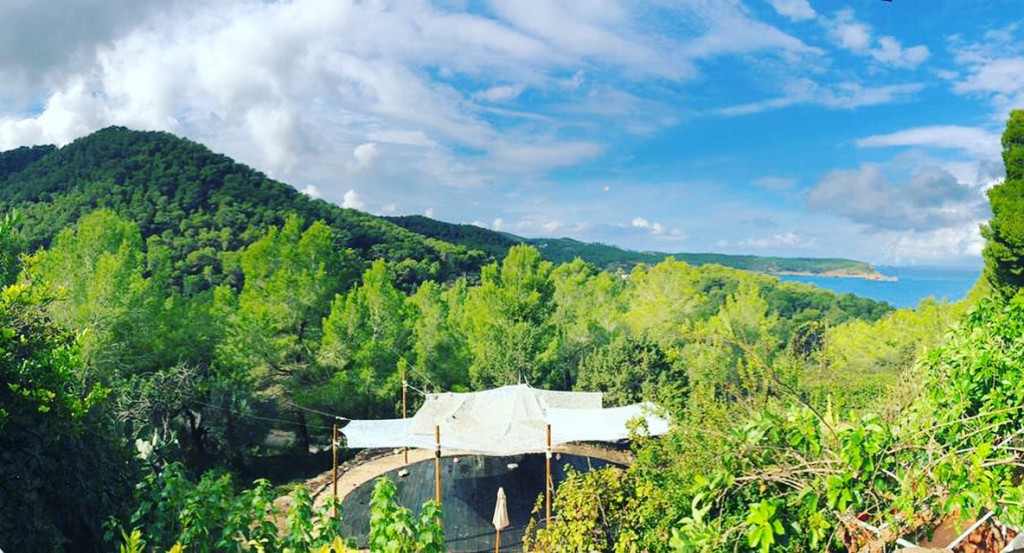 If you feel the call to shift and peel back the layers to your heart, your inner light, your deeper self and your heart's desire, this is for you. Over four nights we will go deep into the magic! Time to shine and step into the new!
Kim Booth curates Cosmic Pineapple retreats and events. Kim is a 500 hr + certified yoga teacher and works also with crystal sound journeys, cacao medicine, creative energy, magic and inspiration.
Below for the intention overview for each day and a typical day schedule.
April 3rd – ENTER THE MYSTICAL – 5pm opening ceremony / evening yoga class / dinner
April 4th – VISION
April 5th – NEW MOON – INNER CONNECTION 
April 6th  – CREATION  
April 7th – EMERGE – Morning grounding yoga, integration and breakfast. Check out @ midday
Typical day:
9.00 – 10.30am: Morning yoga
10.30 – 11.30am: Breakfast
12.30 – 2pm: Workshop, creative class or meditation focusing on the energetic intention of the day
2.00 – 3pm: Lunch
3.00 – 6.30pm: Free time to relax/ explore the location / therapies
6.30 – 8pm: Evening yoga class / movement or ceremony
8.00 – 9pm: Dinner
Costs:
Cosmic Pineapple Retreat
April 3 – 7: (check in 3pm / check out midday on the 25th)
Xuclar Suite (double)   
Large master bedroom with en suite bathroom
Double doors out to small terrace with stunning views out to the mountains and the sea
Wake up and see the pink horizon on the sea from your pillow
Price: £1,333 (two people sharing – all inclusive) / £1,111 (single person occupancy – all inclusive)
Xarraca (double)
Large double bedroom with beautiful mountain views situated on the top floor
Shares bathroom with Jacuzzi with one other bedroom
Price: £1,222 (two people sharing – all inclusive) / £999 (single person occupancy – all inclusive)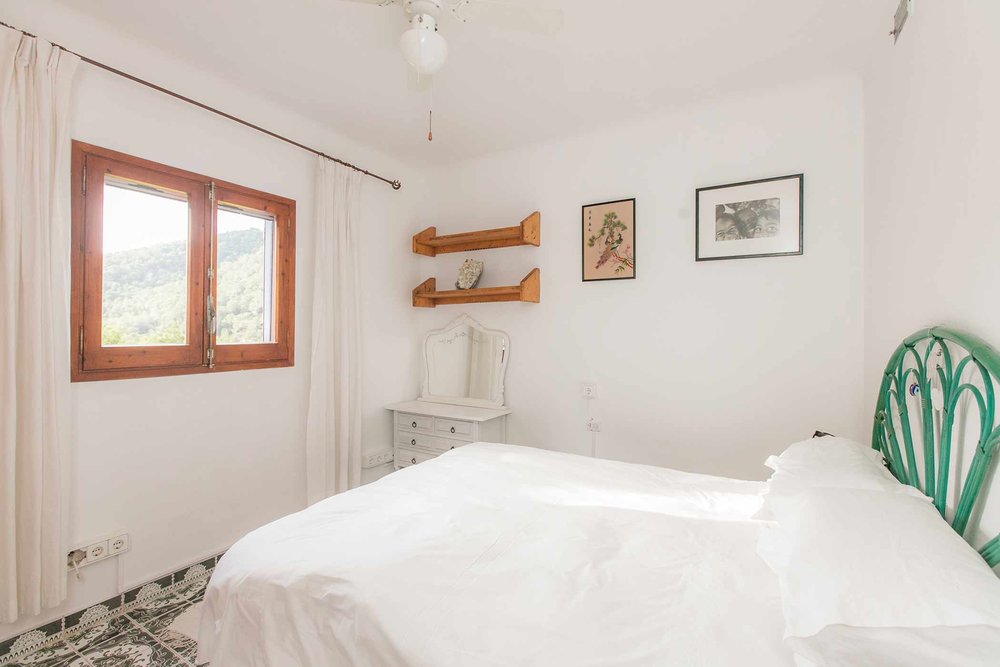 ***  SOLD OUT *** D'en Serra (double) ***  SOLD OUT ***
Beautiful room on lower ground floor with separate entrance and terrace with views out to sea
Shares bathroom with one other room
Price: £1,555 (two people sharing) / £1,222 (single person occupancy)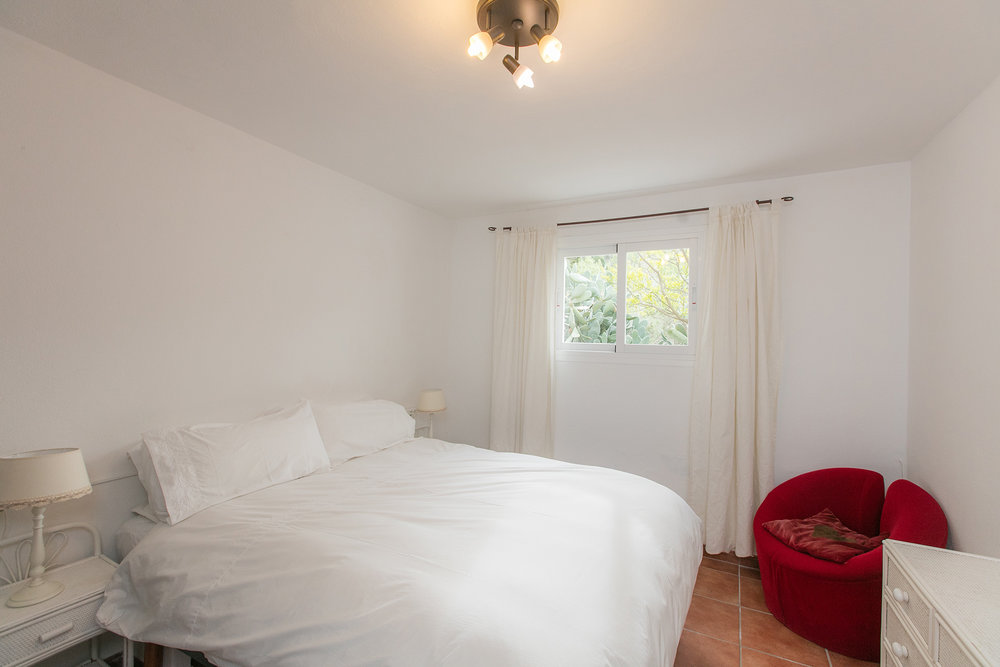 ***  SOLD OUT *** S'illot (double) – ***  SOLD OUT ***
Darling double room on lower ground floor with views out to the dream garden and the sea beyond the orange trees
Shares bathroom with one other room
Price: £1,111 (two people sharing) / £888 (single person occupancy)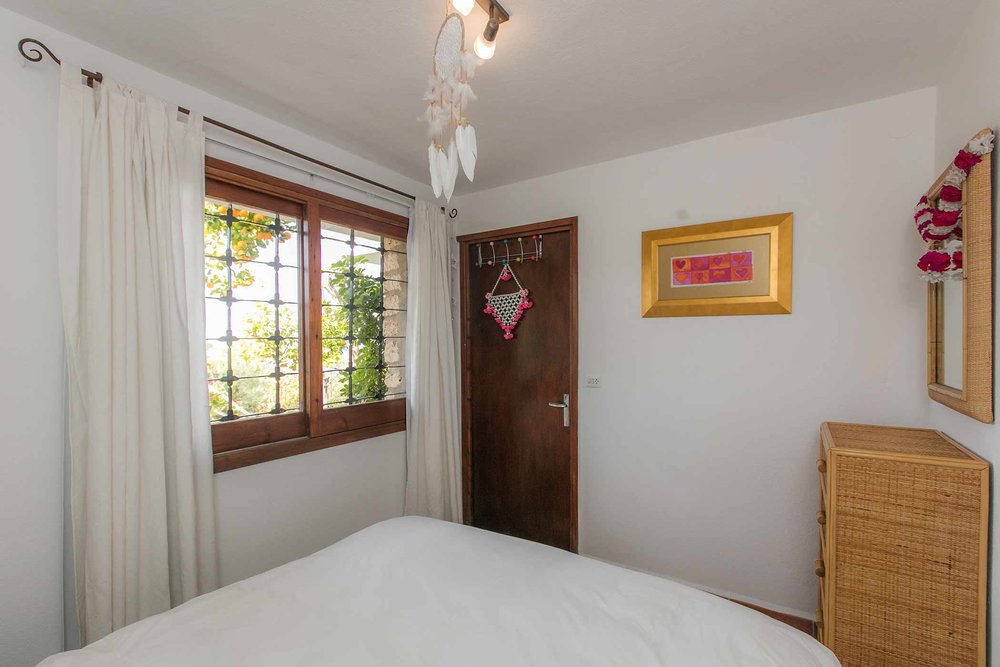 Moon Beach (Twin) 
Large double or twin room on top floor with stunning mountain views from your pillow
Shares bathroom with one other room
Price: £1,111 (two people sharing – all inclusive) / £888 (single person occupancy- all inclusive)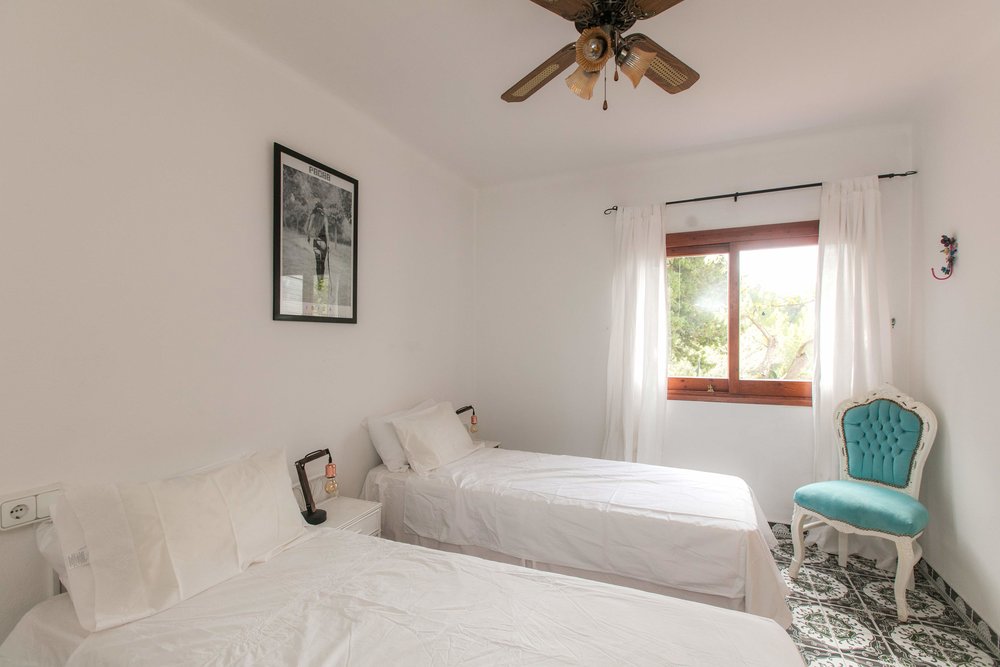 *A 50% deposit is required to secure your place. With the final amount to be paid four weeks before the retreat. 
**Price includes full board, teachings and all meals  – flights and transfers not included.
*** Transfers can be arranged on request.
Ibiza islander prices:
There is also options for people living on the island to join.  Food and teaching included. Spaces are limited!
€444 for full three days, plus complimentary first evening introduction and final morning yoga and breakfast. Day prices also available. Schedule to be announced!
 Please email cosmic@cosmicpineapple.co.uk for all enquiries